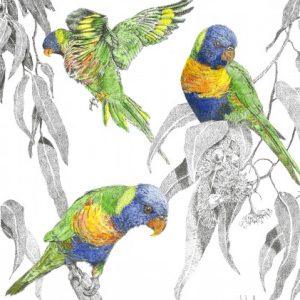 Artist Member
David Dalzell
Artist Member
| | |
| --- | --- |
| First Name | David |
| Last Name | Dalzell |
| Username | daviddalzell |
| Website | |
| Region | International |
| Disciplines | Painting |
| Themes | Environment, Figurative, Landscape, Political |
Statement

David Dalzell is a prize winning visual artist. He is based at his home in Darwin, Northern Territory, Australia, where he usually spends up to 6 months of the year, as well as travelling to New Zealand during the wet season, and returning to the UK, which is his country of birth. David works mostly in pen & ink as well as various paint media. The foundations of David's self-taught art were formed whilst living and practicing in Edinburgh, Scotland. His skills have since been developed in the last five years whilst travelling and developing his entrepreneurial practice. David has now fully committed to his artistic career, travelling internationally, and gaining further inspiration for his artwork from various cultures. Each year he returns to the UK to create his artwork and supply to various international outlets.

"Being an artist and a trained biological scientist, I am very conscious of our environment, and the impact we are having on the planet's climate".

Many of David's pieces reflect, and draw inspiration from the natural world. Human impact and environmental awareness continue to influence his artistic style and develop the stories he tells with his growing body of work. David enjoys wandering from one medium to another, from the controlled detail of pen and ink, to the spontaneous yet gentle flow of watercolour or acrylic ink, to the malleable and definite application of acrylic and oils, as well as painting with light in photography.

"I have a passion for detail, and pen and ink has been my preferred first choice for a few years".
Biography

Upcoming exhibitions

Dark Social Realism, Darwin Visual Artists' Member Exhibition, Darwin, NT, Australia 11 – 26 Mar 2022

Major past exhibitions and showings include:

Darwin Pride Festival Opening 'Hope' Art Exhibition – Friday 3 Sep 2021
Twitter Art Exhibition #TAE21 – 3 Jul 2021. To Benefit The Leukaemia and Intensive Chemotherapy Fund – LINC, Cheltenham, UK
'She Brings Fire With Her' eZine poster – published by – Coin-Operated Press
A Quiet Witnessing: Artist's response to climate change, solo exhibition at Darwin Visual Artists, Ground floor Harbour View Plaza 1, 8 McMinn St, Darwin City NT 0800, Australia. Opening 16 Apr 2020, showing 16 Apr – 1 May 2020
Spring Awakening, joint exhibition with Art & Craft Collective,
93 Causewayside, Edinburgh, 27 May 2021
CLIMATE CITYLIFE lightbox exhibition, May – September 2020.
Prize winning entry 'Where the Bloody Hell Are Ya?'.
Culminating in showing during sunset mangrove talk, Darwin City, NT 0800, Australia.
Takaka Markets – 2017 – 2019 to February 2020, Takaka, Golden Bay, South Island, New Zealand
Art & Craft Collective pop-up exhibition, 27 July 2017, Craigmillar Park Church Hall, 7.30 – 9.30pm
Joint exhibition of artworks inspired by nature and landscape.
Art & Craft Collective – Travelling Scots pop-up exhibition, Craigmillar Park Church Hall, Edinburgh, 29 June 2017
Joint exhibition. Read the ArtMag article.
Edinburgh Design Exchange, Ocean Terminal, Edinburgh – May 2016
Maple Arts, Candlemaker Row, Edinburgh, June 2015 – May 2016
Easter Joint Exhibition, Blackadder Church, North Berwick, 3 – 6 April 2015
Scottish Society of Artists Annual Exhibition, Royal Scottish Academy, Mound, Edinburgh
Sit in/Take Away Exhibition.
Kaleidoscope, 19 – 26 July 2014. Joint exhibition at The Virginia Gallery, 45 Virginia Street, Glasgow
Adrift in a Sea of Light, 5 August – 1 September 2014. Solo exhibition at Captain's Bar, South College Street, Edinburgh
Easter Joint Exhibition, Blackadder Church, North Berwick, 18 – 21 April 2014
Three Clicks – Regent – Edinburgh,  July 2013. Solo exhibition.
Annual Society of Scottish Artists exhibition, Royal Scottish Academy, Mound, Edinburgh.
Showing and sale of 'Ecstatic Rainbow'.
Chateau du Sou, Lacenas, Lyon, France, 14/15 July 2012. Solo exhibition. Watch the YouTube video.

Charity Work

Art in the Hut exhibition 2019.
Funds raised in aid of The Norfolk Hospice, Tapping House. Friday 9th – Sunday 11 August 2019
Foster Pride NYC New York, USA, #twitterartexhibit (TAE)
Trygve Lie Gallery, East 52nd Street, New York, USA, 31 Mar – 21 Apr 2016

Background

A prize winning artist, David also has a background in environmental biology, having previously pursued a research career at Nottingham and Edinburgh, winning the Shell Ecology Prize in 1992. The environment remains a key inspiration in David's work. Self-taught as an artist, David decided in 2016 to shift his focus further, and commit totally to the pursuit of art, as well as travel internationally to develop his career. David's artwork is sold and collected in Scotland, England, New Zealand and Australia, and can be found in private collections across the globe.

Memberships

Society of Scottish Artists.