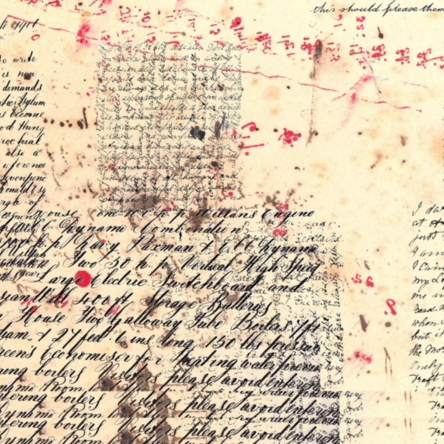 A Society of Scottish Artists satellite exhibition hosted by An Lanntair.
Exhibition: May – June 2019
"Something reused or altered but still bearing visible traces of its earlier form."
Throughout the medieval period, because of the commodity value of writing materials, it was common for vellum manuscripts to have the original text scraped-off and written over. With forensic and other techniques it became possible to reveal the original writing, which could be more significant than what came after.
The theme of Palimpsest suggests multiple possibilities for artists – from imagery which is layered, erased or re-worked to conceptual layers of thought or process.
---
Open Submission
Artists are invited to submit proposals for new works or propose existing works in all mediums, which interrogate, challenge, comment or engage creatively with the concept of 'Palimpsest'. Selected works will be exhibited at An Lanntair in the Outer Hebrides of Scotland.
All artists are welcome to apply but artists must join or be a current member of the Society to apply. Membership is open to all artists across the world. There is no additional submission fee.
The benefits of membership also include free submission to our Annual Exhibition, promotion of your work and discounts at partners art shops and framers. To join today click here.
An Lanntair is a hub for creativity and the arts in the Outer Hebrides. A multi-arts venue, their work stretches across a national and international platform, yet their distinctiveness lies in being 'of the place' and the creativity of Gaelic and the Outer Hebrides takes centre stage. For further information see http://lanntair.com
Entry Information
Key Dates
Entry Deadline: 16 August 2018, Midnight.
Selection Notification: mid-September 2018
Artwork Delivery: TBC
Exhibition Open To Public: 17 May – 29 June 2019 (TBC)
Eligibility
Artists must be a member of the SSA to apply. Membership is open to all artists across the world. There is no additional submission fee. To join today please click here.
Number of works
Artists submit up to 6 work but can submit a group of works as one entry if the group was created with the intention of being viewed as a whole, e.g. an installation comprised of elements, a suite of prints or a diptych.
Restrictions
There are no restrictions on size, discipline or media.
No reproductions or copies of any kind will be accepted.
Submission
Please submit up to 6 images or/and a link to a video, a description of your work, biographical information and a short artist statement.
Proposals for an unrealised work might include sketches of the proposed work or images of past works and links to video or documentation.
All entries must be submitted using the online portal by the stated deadlines. Only works that have been pre-selected via the online submission process will be accepted.
Image Uploads
Image files should be JPG or PNG and no more than 5MB large. Upload time will depend on your internet connection speed so please be patient. If you are having problems uploading your images please use image editing software to resize your image to approximately 1600 pixels wide and then save as a new file. Image file names should not be too long and should not contain any invalid characters such as ' " & % * ( ) < > / \ ~ # + =
Pricing
Work selected for exhibition will be can be for sale. 40% commission is charged by the gallery. It will be assumed that the sale price includes the cost of any frame and our commission. Please allow for these points when pricing your work. Prices should include VAT if applicable. If you are VAT registered please provide a VAT number in the box provided.
Communications
All communication will be by email. Successful applicants will be notified by email and must respond within one week to confirm participation. Failure to do so could result in work being withdrawn from the exhibition.
Selection
The Selection Committee will select the works for the exhibition. The Selectors will consider all correctly completed submissions. The decision of the Selectors on all matters is final and no correspondence will be entered into.
Pre-selected works
All works that are pre-selected online are still subject to final selection by the panel on delivery to the gallery.
Plinths and Display Equipment
Artists must provide their own floor standing plinths or display equipment.
Any specialist display and hanging mechanisms must be clearly outlined in the submission proposal and any extra costs incurred should be covered by the artist.
Selected artists must supply their own electronic equipment if needed at the point of submission. All electronic equipment must be PAT tested prior to handing in.
All equipment must be labelled with artist's name and contact number.
Insurance
Artists are responsible for insuring their own work. All works accepted for exhibition will be displayed entirely at the artists' risk and organisers and the gallery will not accept liability for loss or damage occurring during the exhibition.
Delivery and Collection
Artists will be required to cover the cost of transportation to and from the venue. We will work with artists to find the best and most cost-effective way of transporting works too and from the venue and are looking at various options to reduce costs such as sharing courier costs. Artists are responsible for insuring their own works. Work not collected at the stated times will be subject to a daily charge of £10 and will be disposed of after one week.