Engramme Exchange | The View After the Questions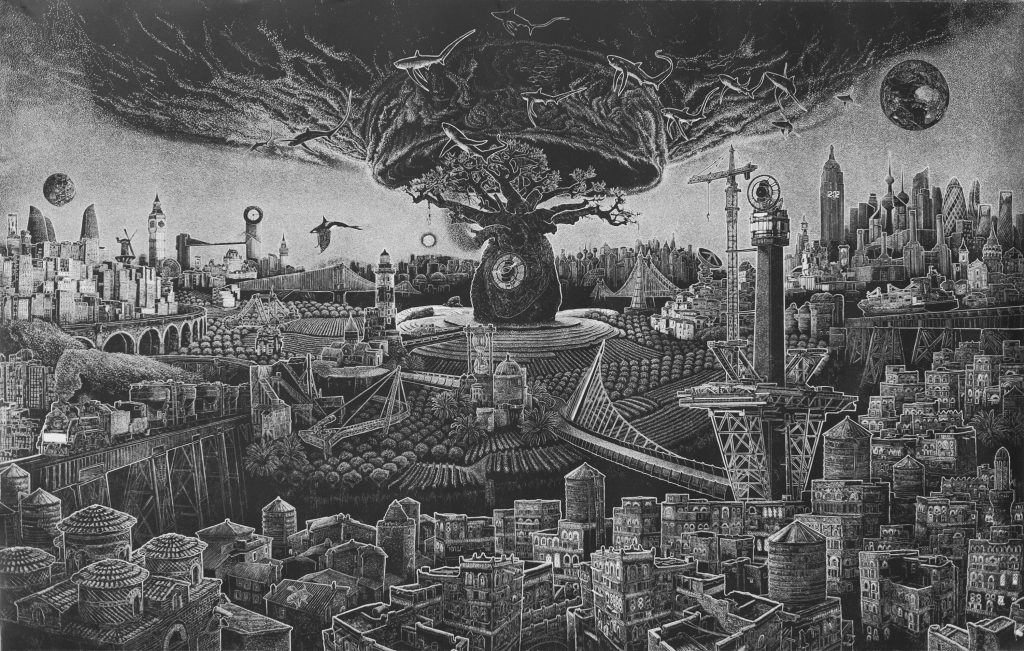 As part of the exchange with the Society of Scottish Artists and Engramme in Quebec, Canada, Ade Adesina's new exhibition "The View After the Questions" has just opened.
In 2017, Ade Adesina was selected from an open call to artists for the SSA Engramme Artist Exchange offering a solo exhibition at Engramme.
Ade Adesina's work is fueled by ecological and environmental ideas. He is fascinated by the way the human footprint damages our planet. Despite the beauty of our world, he wants to highlight the ongoing damage caused by deforestation, energy consumption policy, and endangered wildlife.
Ade Adesina works mainly with linocuts and etching, but he also works with oil paint, installation and sculpture to achieve a different desired effect.
He combines his African cultural roots with British culture and encourages people to reflect on themselves, their past, present and future. He also reflects on topics such as religion and evolution, peace and unity, race and identity, climate change, war, survival and human adaptation to our ever-changing world.
His practice is influenced by his travel experiences and the imagery he encounters. He spent time in Italy, Nigeria, France, the Scottish Islands, Germany and the United States. He is constantly looking for historical and cultural differences between the countries visited.
Now in its sixth year, this partnership between the Society of Scottish Artists and Engramme continues to create a vibrant dialogue between artists based in Scotland and Canada.
Ade Adesina was born in Nigeria in 1980, is a printmaker who lives in Aberdeen, Scotland. He graduated from the Aberdeen Gray's Art School in 2012. He has exhibited in Scotland, England, Germany, Portugal, Romania, Italy and the United Arab Emirates. His works are part of the following collections: Stadtische Galerie Collection, Bietigheim Bissingem, Art in Healthcare, Edinburgh, Robert Gordon University Arts and Heritage Collection, Royal Scottish Academy Collection, Edinburgh and private collections in the United Kingdom.
The View After the Questions | Ade Adesina
18 May – 17 June, 2018
Galerie D'engramme | 510, Côte D'abraham | Québec
Image: Ade Adesina, The View After The Questions, 2018, linocut, 109.2 × 167.6 cm