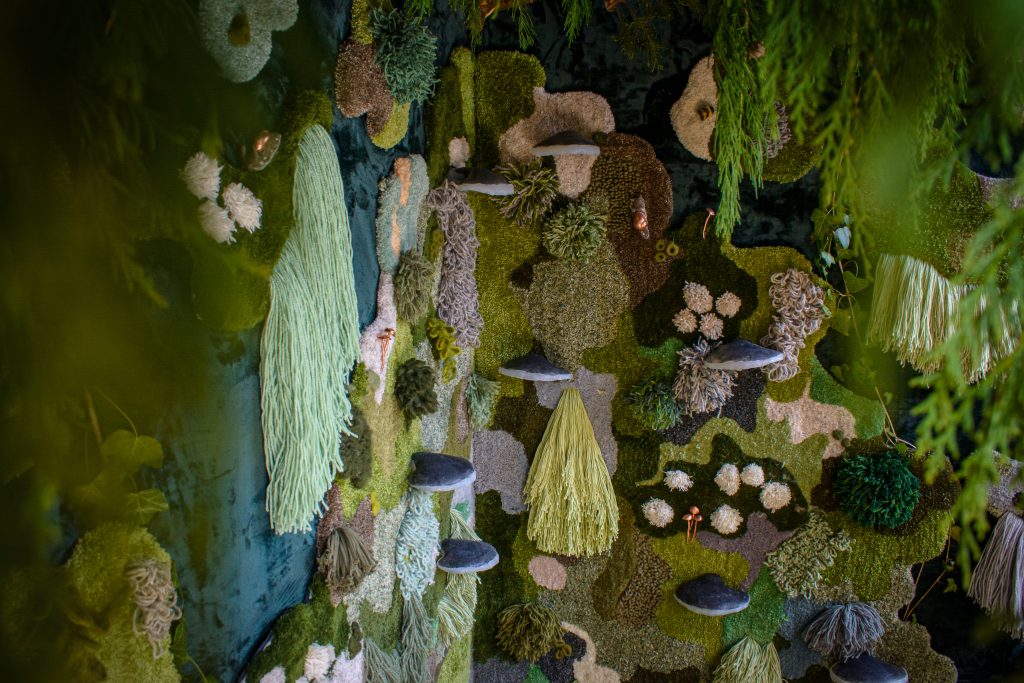 We are delighted to announce this year's winners of the SSA New Graduate Award!
This year's degree shows offered such exciting and high quality work that the SSA selectors have increased the number of awards to 12 and also added a new category of Highly Commended which has been awarded to three new graduates.
"We were pleased to see such ambitious and diverse work across the six campuses ranging from pin-hole photography to spoken word performance.  It is a privilege not only to see the work of the next generation of artists but also to share it with our audiences in the upcoming Annual Exhibition,"  said Vasile Toch, SSA President.
The selected pieces will be on display at the SSA's 125th Annual Exhibition which is being held for the first time at The Maclaurin Art Gallery in Ayr which opens on 19 November 2023.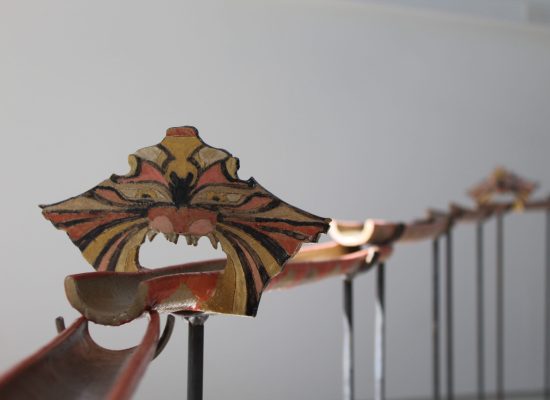 Annie Flora Watson Donaldson
Duncan of Jordanstone College of Art & Design

I consider my sculptural practice as a form of ~non~sense and world making, informed by principles of ecosophy, political and material ecology. I attend to the question of how we might live in better dynamism and more responsively with the ecosystems whose pulse is also somewhat our own. I am occupied with heterotopic playscapes, a carnivalesque aesthetic, and the tensions between escapism and revolution.
Conjuring wild things, I present cute(sy) renderings of the world with eerie undertones, paradoxical wilding nurseries that critique binaries of domesticity and the wild through a considered, post-colonialist and feminist lens.
Dealing with a narrative of loss, but also of hope, I am intrigued by the notion of child who grows sideways, who does not give up on playfulness, opposes power that always presumes a hierarchy, and subverts linear progressions. Many of my works involve a process of spacial and temporal cartography, mapping foraged flora through the process of natural dying, and then bringing the logic of the shifting seasons into spaces reserved for acculturation of children. Natural dyeing is an ephemeral practice, like each season the dye will also inevitably fade. The process reflects the successive nature, flux, and impermanence of life.
Image: "Your Turn", 2023, Wood, Steel, Stoneware Ceramic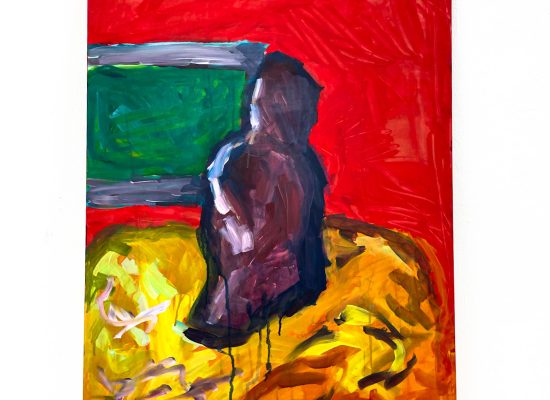 Chloe Hamill
Duncan of Jordanstone College of Art & Design

I am a painter who experiments in various mediums including photography, film and sculpture. My work is based on the human experience. I create paintings that are emotional and energetic.
In this series titled 'What do we do in the shadows?' I explore anxiety using bold brush strokes and specific colours. The colour palette I create is orchestrated to provoke emotion; from the underpainting to the final layer. My intentions for this project are to express my own inner conflict, knowing it could be reciprocated by the viewers. I originally photographed shadows which I then connected to the mental disorder as anxiety does follow the sufferer as a shadow would.
Themes of grief and heartbreak is often relevant within this work as I was struggling internally whilst producing these pieces. The figures seen are sulking in melancholy as they are consumed by their senses. The colours engage with the figure in a powerful manner as each colour holds a different sentiment. Warm and cold tones melt together to show the complications humans experience – particularly those with anxiety.
Image: Bedroom tantrums, Acrylic paint on board, 2023
Katherine Humfrey
UHI Inverness

There is always beauty for those who wish to see it, a perfectly imperfect world that weaves its roots through all of us. My work explores this relationship of finding beauty in the minor details within nature, which are often missed or disregarded. Using these details, I create artwork to highlight what is commonly overlooked, creating immersive experiences or artworks that capture my audience and entangle them within the moment.
Nature has always been a source of inspiration, comfort, and joy; a tutor, a home and a friend.
In our modern life, I feel we pay less attention to what is around us, too busy with the idea of productivity, that we ignore what is truly around us. My work aims to make others smell the fresh air, hear the crunching of leaves, feel the wind on their face and taste the fruits of nature. Nature and the land speak, but most are simply not patient or quiet enough to pay attention to its story.
Time spent in nature is always well spent, clearing thoughts and improving well-being; I aim to create a sense of relaxation, producing environments that allow my audience to stop and savour the moment.
Image: Unwind, installation, 2023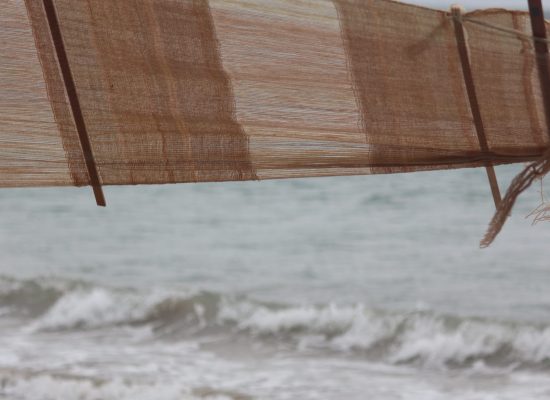 Molly Joanna Shearer
UHI Orkney
Born in Orkney, Molly Shearer's work is rooted in her connection to her natural surroundings. Through her material choices and processes, such as exploring natural dyeing, using found or repurposed materials, and taking her artworks out into the environment, Molly's work creates a dialogue between herself and the landscape. Primarily focusing on the slow and meditative nature of hand textiles, originally inspired by family history relating to the textile industry, Molly aims to continue developing a slow and sustainable art practice.
Image: Lett, Shetland Yarn, 2023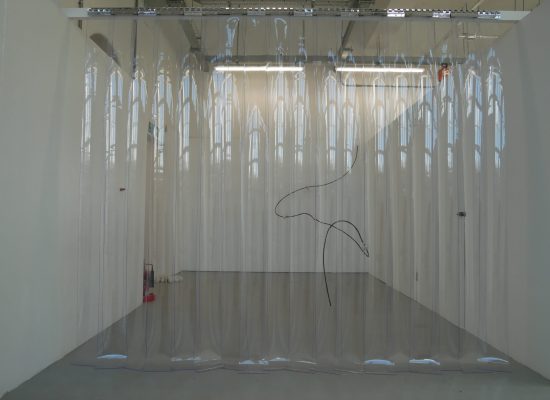 Breagh Reilly
Glasgow School of Art

My work feels like when you are stuck on a crowded train and all the other people around you are family members and you look like you belong but you don't. Stuck between a window and a stranger. Stuck in a moment of awareness. Negotiating with the uncomfortable and utilizing all it has to offer is at the core of my practice.
The process of my work begins with a feeling. Therefore, through a performance and installation based practice I test both my own relationship with the uncomfortable as well as an audiences, allowing me to then seek out opportunities to create my own versions of awkward spaces and interactions. My practice is an endeavour to make sense of moments that shouldn't make sense, whilst at the same time making them make even less sense than in the first place, and challenging the perception of what we know and what we think we understand.
Image: just for the record i hate the dentist, steel structure, stoneware ceramic, plaster, pvc curtains, 2023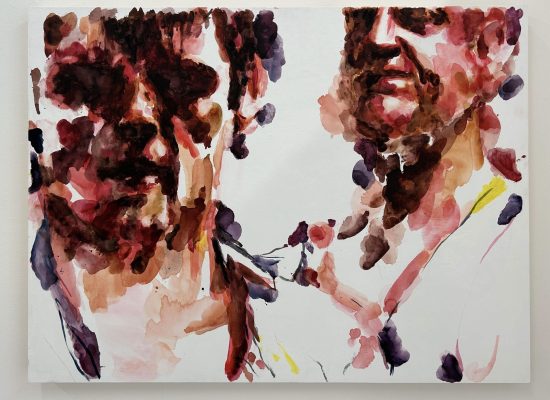 Luke Shand
Glasgow School of Art

My practice is centred in the interaction of painting and queer theory. Processes of painting are focused on to develop layered images that fluctuate in their opacity as they embody both figurative and abstract elements evoking their subject, the coded queer image. Reclaiming these hidden queer images and transforming them through painting into intimate expressions of desire; doing this allows for a challenging presentation of the queer body to emerge and to be better comprehended.
My new body of work is based on film stills obtained during the research for my dissertation which highlighted closeted queer actors' portrayal of coded queerness in horror films; using Dr Harry M.Benshoff's 'The Homosexual and the Monster' as a key text in understanding this coded form of representation. I seek to imbue my work with the fear and freedom of queer expression, highlighting snapshots of queer intimacy amongst these horrifying scenes. The extraction of which allows its queer narrative to become more visible. The paintings feature tightly cropped compositions to heighten the tension and with the subject being primarily figurative, the work unpicks and unravels years of harmful deceptions of queerness as the monstrous by resurfacing these intense bursts of cinematic homoeroticism.
Image: Jesse and Coach 2, Water soluble oils on wooden panel , 2023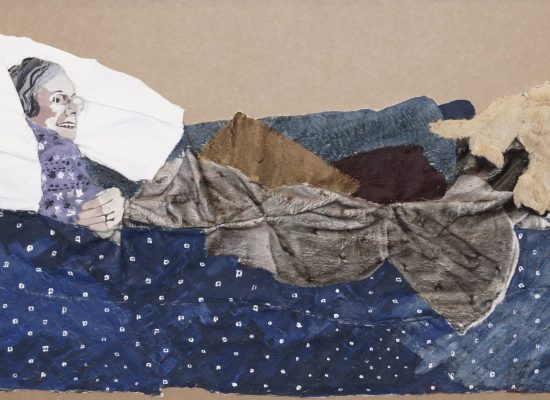 Erical McCracken
Edinburgh College of Art

Erical McCracken (b. 1991, Glasgow) has a background in performance and works intuitively with easily accessible, found objects and materials, elevating their status by care and attention to detail. Sustainability and resourcefulness are important values in her practice. While certain themes inevitably recur in her work, Erical prefers to investigate a concept, and then fit the concept with an appropriate medium. She takes an immersive, 'punk' approach and considers art-making a process of translation.
This body of work is titled 'Still Life': a still life being evidence; signs of life, things left in one's wake. These domestic observations are mostly photographs transformed into sculptural objects.
Image: Still Life: sofa, acrylic, cardboard, found fabrics, 2023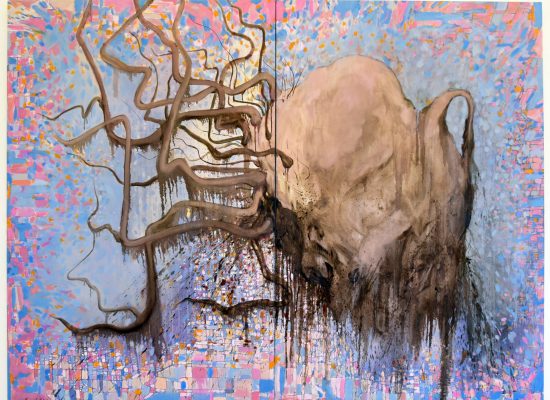 Remi Jablecki
Edinburgh College of Art

Remi Jablecki's practice focuses on painting, drawing, sculpture, and installation, predominantly concentrating on canvas painting. Coming from Poland to live, grow and study in Edinburgh brings unique traditions, perspective, and experience to his visual language.
Inspired by the practice of gardening and Polish heritage, his developed works draw attention to queer bodies and the relationship between gardening, labour practice, land, and queerness. Through multidisciplinary approaches, it takes various forms, often using storytelling and theatrical qualities with narratives drawn from the vegetable garden and engagement with agriculture. It explores queer refuge and care for plants, while raising parallels between weeds, queerness, and our society. Jablecki 's abstracted compositions with sharp graphic motifs represent fragilities, difficulties, and the dependencies of life. The large-scale paintings focus on mark-making, contrast, and relation of colours, while celebrating the painting process. He looks back to his roots and proudly uses his Polish experience, memoires and manners. Remi establishes the rich and tangible relationship between growing, giving and maturing, translating this to contemporary dilemmas of equality, sharing the land, and belonging.
Image: Gardena of Queer Delights, Oil on canvas, 2023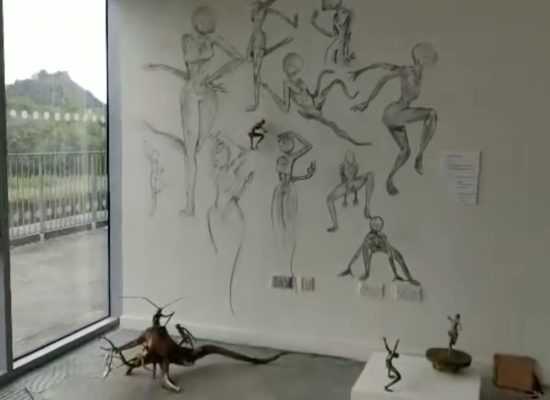 Lauren Jane Tierney
Forth Valley College

I explore a wide range of artistic disciplines within my work, my primary interests being sketching and sculpture that are centred around the combination of two-dimensional and three-dimensional forms.
Current workings include clay models that depict a human-like form with the aim to showcase a thematic series of artworks that highlight an interdisciplinary approach.
I am mindful of using natural and recycled materials wherever possible; sourced from family, friends, recycling centres, charity shops and from natural life.
Guided by humour, I use nature, live models, and illusory perceptions as visual aids in conjunction with concepts from my dreams to build up an image that I can then express artistically. My motivation for creating is to inspirit my fellow man, myself included, to express their thoughts and emotions freely. I draw inspiration from a wide range of human experiences with the intention of expressing a sense of freedom, mischief and vulnerability through body form and language.
Image: Aye, if ye can catch me, Clay, wood, stone, 2023.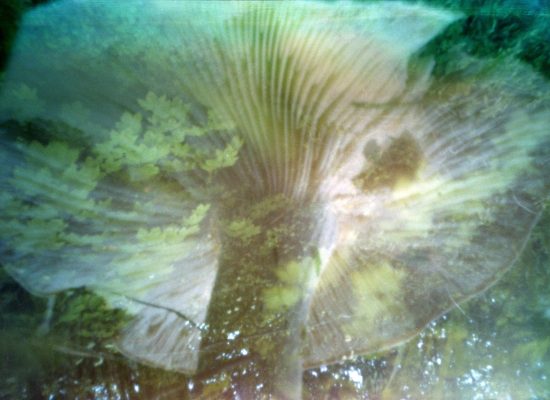 Alina Wojciechowska
Forth Valley College 
My name is Alina and I am a Scotland based photographer and artist. For many years, my specialty has been documentary photography of events, reportage, street photography and storytelling. I worked as a photojournalist and a graphic designer for years before I moved to Scotland, and I decided to continue my photography journey here. I have an urgent need to move forward, to explore new horizons and conquer new peaks and constantly feel personal progress. That is why I decided to get BA Art and Design degree.
I love experimenting with light and shapes and during my studies, I returned to my old passion — film photography and shooting with pinhole cameras.
This my work is based on Lewis Carroll's Alice's Adventures in Wonderland. It explores the possibilities of lens-less film photography, long exposure and double exposure to show the diversity, variability, beauty and sometimes paradoxes of our world.
These photos were taken with cameras I made by hand. Instead of lenses, my pinhole cameras have tiny 0.2 mm apertures through which light enters the film, creating an imprint of reality, transformed according to my intention.
Image: Wonderland, Photographic prints, 2023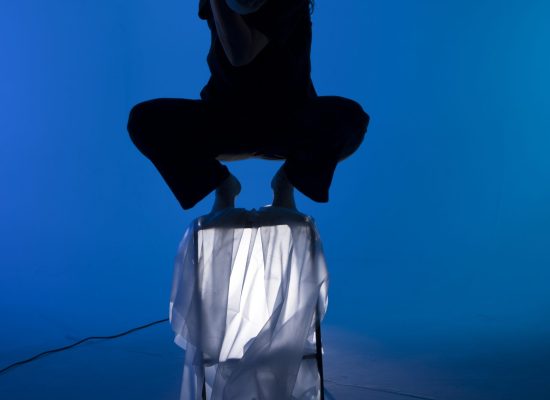 Rho McGuire
Grays School of Art, Aberdeen

I am a performance artist. Creating spoken word poetry with movement; embodying the language of connection. I investigate how we sustain our relationships as humans, creating forces to reach each other. Our interconnected communities extend to local landscapes and the planet as a whole. I choreograph rural spaces through durational walking, endurance running, wild swimming, analogue photography, writing and recorded conversation with friends to search for rhythms of living. By overlapping the patterns of our habits and rituals we discover shared pathways.
A transportable, ecological and alternative practice, encouraged by encounters with people and planet. A deep dive into radical work and quiet living. An attempt to shift focus onto cultivating a life with others in the natural world. An immersive situation to provoke a conversation with the land. A disruption and plunging into co-creation and co-production within performance art. This temporary and site specific work forges walking and movement. Using soundscape, collective performance, text, moments of movement and stillness. Seats are islands that provide a pause to listen to the frequencies of our local body of water. Through headphones you can experience an individual, intimate performance.
Would you care to join me in building a temporary community?
Image: Come For A Dip , performance (still), 2023.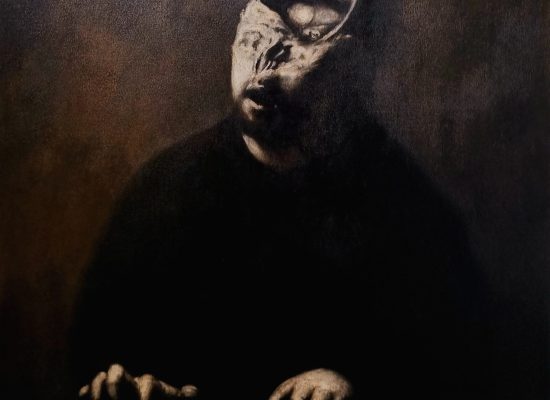 Brodie Wilson
Grays School of Art, Aberdeen
"There is beauty in darkness" is an ethos at the heart of my practice – my drive to create is rested on the need to understand my own mind and the existential quandries that underpin life on our Pale Blue Dot; to earnestly plumb the tenebrous depths of human experience and present a mirror to the world in all of its morbid curiosities.
Through an aesthetic born from the chiaroscuro of the baroque masters, the symbolism of the romantics and a technical understanding of the canon of western painting, I create works informed by personal experiences, the language of cinema, mythos and observations of human life. Using oil paint and intaglio printmaking techniques I wish to encourage a dialogue between the contemporary and the art of the past and create shadowy worlds where the pursuit of mastery and atmosphere to their limits are paramount – where one can find catharsis in the exploration of uncomfortable themes and a sympathetic friend in the embrace of the void.
Image: Void Head, Oil on canvas, 2023
Highly Commended
The following three artists were Highly Commended and have been invited to exhibit their works in the Annual Exhibition at The Maclaurin Art Gallery, 19 November 2023 – 14 January 2024.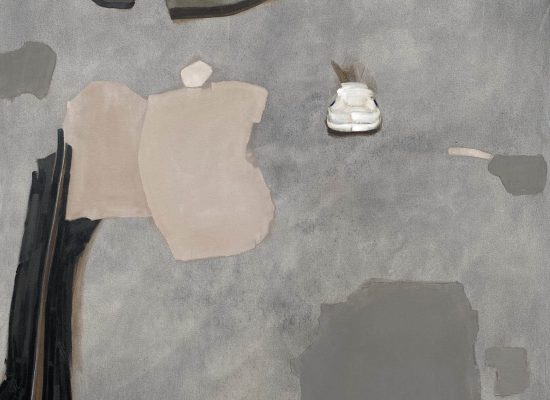 Danele Evans
Edinburgh College of Art
Danele Evans is an artist whose practice focuses predominantly on figurative painting. She explores the relationship between people and the contemporary built environment to develop works that reflect a place and position in the world that is undefined, complex and in constant flux.
Influenced by contested spaces, she considers displacement, fragmentation, and divisions to inform compositions with unbalanced spatial relationships. The built structure of the 'Old City' of Jerusalem forms the basis of these concerns for being a place which Danele feels has universal characteristics.
Populating fractured spaces, she adopts shoes as a motif to represent ownership and possession. She maps a place that doesn't quite fit together to question the way in which we orientate ourselves and on what grounds we stand. Painted with various levels of tension and leaving different kinds of edges, she suggests that sometimes boundaries aren't always so defined.
Danele graduated from Edinburgh College of Art in 2023 with a BA in Painting. She exhibited recently at Leeds Art Gallery and will also be showing at the RSA New Contemporaries 2024 in Edinburgh.
Image: Harrowed, oil on canvas, 2023
April Lannigan (April)
Glasgow School of Art
Living in a rural community, my emerging art practice begins to navigate my position as a woman within landscape, turning to sculpture as a mode of exploring my own immersion, amidst an active environment of 'things'. I am excited by the vibrancy of material-based, abstract sculpture and its potential to engage in debates surrounding environmentalism, agency, animacy and thingness.
​My approach to making sculpture is heavily informed by my longstanding interest in painting and printmaking, with a lot of my work utilising the flat walled surface as a springboard into surrounding space. Questions about boundary, edges and autonomy are frequent nodes within my work, as I test the notion of sculptural language and the physicality of making sculpture, through a fascination of colour and composition.
Image: Living Landscape, Framed Screen Prints, 2023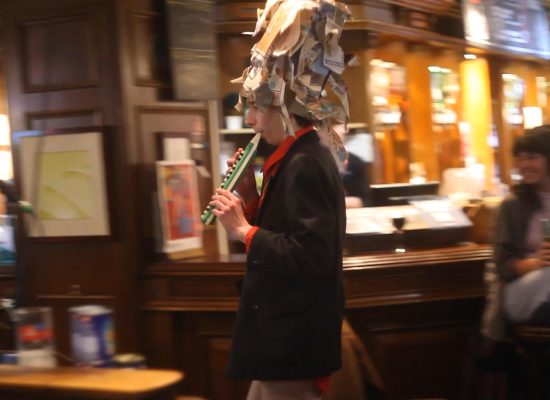 Jacob Raymond
Glasgow School of Art
I see my practice as critically aware pissing around. There is an inherent silliness and second-rate pageantry to all my work. I work primarily with live performance. The live aspect is essential to me as I often seek to take a structure, e.g. a pub quiz, a white cube space or a degree show, and destabilise it through a sort of chaos-entertainment. My performances rely a lot on improvisation and involving the audience. Being able to react to the unpredictable variables of live performances helps to create the moments of destabilisation I search for. My way to rehearse for these moments often comes from a place of thorough research, giving me pockets of knowledge, actions and phrases, which I can fall back on.
When performing, I try to access a sort of persona that has developed of this song-and-dance-man. Through daft costumes and telling people I'm going to do such and such a silly thing, I put myself into these sink-or-swim situations. Standing in the middle of a pub in my underwear singing a song about trivia, I can only either run away or double down, this is what brings this persona out of me.
Image: Still from live performance, 2023