30 x 30 Online Edition 2023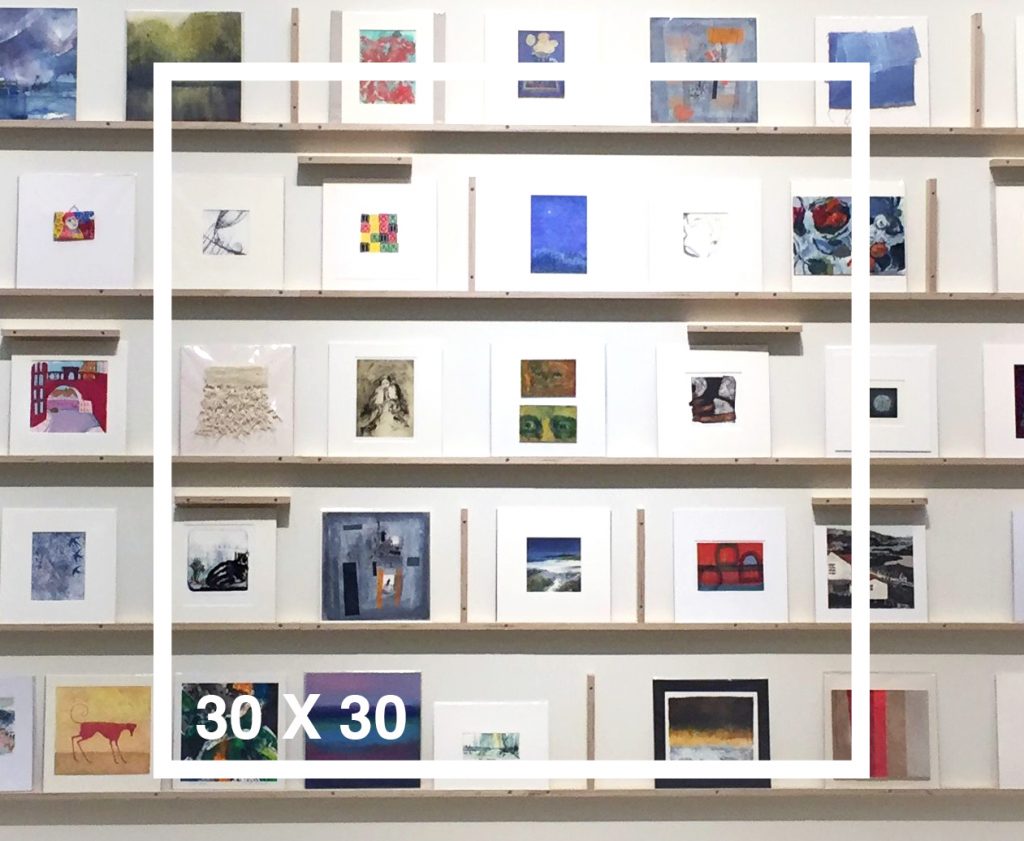 Our ever-popular 30 x 30 small works display will return this year as an online presentation to accompany our 125th Annual Exhibition at the Maclaurin Art Gallery in Ayr. 30 x 30 online offers a  fantastic, varied selection of small works by SSA Members for sale at affordable prices.
All SSA Members are invited to submit work. There is no selection process and there is no entry charge. All works will be presented digitally on a dedicated online gallery throughout the exhibition period of 19 November 2023 – 14 January 2024.
Professional Members are invited to submit two pieces of artwork each.
Artist, Graduate and Student Members are invited to submit one piece of artwork each.
All works must be unframed 2D work, no larger than 30 x 30 cm.
The exhibition will be exclusively for our Members, and there will be no selection process.
If you are not a member and would like to join you can do so HERE 
How to apply
Please complete the below form with the following information: title, dimensions, medium, weight and price; minimum one high-res image of your work, along with a short statement about the piece. All of this information must be complete for it to be accepted. Please complete one form per artwork.
Key dates
Call Opens: Wednesday 23 August, 2023
Entry deadline: Wednesday 27 September, midnight **Deadline Extended
Online Exhibition: 19 November 2023 – 14 January 2024
Eligibility
You must be a Member of the Society to be eligible for this opportunity. 
If you're not yet a Member, you can join here
Further Information
– Each Member may submit only one 2D work, with a maximum dimension of 30 x 30 cm. 
– The work must not be framed or glazed.
– There are no restrictions on discipline or media, but please remember that you will be responsible for sending your work.
– You must supply at least one good, clear image of the work, which should be at least 1MB in size. Images must be at least 72dpi and a minimum of 2400px on each side. You can submit multiple images to show further details of the piece.
– A short description of no more than 100 words must be submitted alongside the work. This will be used in promotion of the exhibition on social media, newsletter etc.
– Please include the title, dimensions, medium, weight and price of the piece in your submission. The weight of the work will be used to estimate the cost of postage. If this is supplied incorrectly, the artist will be responsible for covering any extra costs incurred. 
– Once notified of a sale, the artist takes responsibility for posting the work to the client promptly.
Pricing
– All submitted work must be for sale. 
– The maximum price of any piece of work should be £350.
– Commission on sales are: 35% Professional Members, 40% all other membership types. 
– It will be assumed that the sale price includes the commission. Please allow for these points when pricing your work. Prices should include VAT if applicable. If you are VAT registered, please provide a VAT number.
– The Society will calculate the shipping costs, on top of the sale price, based on the weight supplied by the artist. The artist will be required to post the work directly to the buyer, and to pay the cost of postage initially. The Society will then reimburse this cost to the artist once the buyer has received the work.
– The Society will not be responsible for any extra costs incurred as a result of the incorrect weight being supplied by the artist.