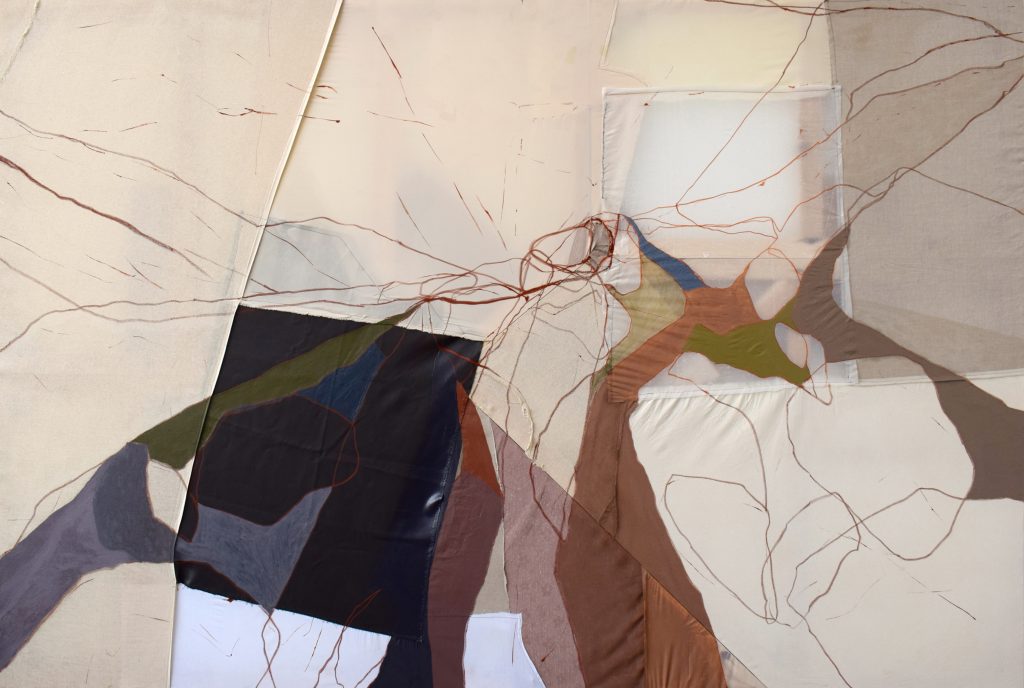 We would like to thank all those who have contributed to this year's awards. We work with a number of generous partners each year to offer artists exhibiting at our exhibition a range of prizes and awards. Below is the list of the successful awardees from this year's exhibition:
Anne Redpath Award for Painting – Cate Inglis 
£250

Arusha Gallery Award – Emelia Kerr Beale
For an artwork of merit, £500
Contemporary art gallery in Edinburgh with an extensive exhibition and Art Fair program. Selected by the Curator of the Gallery.

Cass Art Exhibition Prize – Samantha Cheevers
2 week exhibition in their gallery space

Connell & Connell WS Award
For an artwork of merit, £300
Established in 1924, Connell & Connell are an independent firm of solicitors and estate agents with a reputation for professionalism and quality of service. Selected by a representative of Connell & Connell.

Craft Scotland Award for design and craftsmanship – Isabelle Moore
£500  

Creative Edinburgh Award – Rebecca Milling
A Creative Edinburgh annual membership.
As the largest network of creatives in Edinburgh, Creative Edinburgh is committed to advancing the value and impact of creativity- both locally and internationally. Selected by a representative of Creative Edinburgh.

Deloitte Award – Doug Mackie
For an artwork of merit, £500. Selected by a representative of Deloitte.

Detail Framing Studio Award – Samantha Cary
Two artists will receive a £150 voucher.
Detail Framing Studio is a bespoke picture framer, gallery and archival photography studio based in Tollcross in Edinburgh. Selected by Jamie McAteer, owner of Detail Framing.

Edinburgh Art Shop – Martin McKenna
Two artists to receive £100 voucher
Edinburgh Art Shop offers a wide range of Art and Craft supplies from professional artists to beginners. Selected by representatives of Edinburgh Art Shop.

Edinburgh Printmakers Residency Award – Miriam Mallalieu
The opportunity for a printmaker to work in Edinburgh Printmakers new studio facilities in Castle Mills. The prize includes, print studio induction, 1-month free studio use, £150 materials budget and 1-year membership. Selected by Alastair Clark, Studio Director.

Flora Wood Award – Madeleine Daly
£50 for the most original work in the exhibition 

Gallery Ten Award – Aileen Keith
Gallery TEN is a contemporary & applied arts exhibition space situated at 5 William Street in Edinburgh's vibrant West End. Selected by Gallery Ten Director, Paul Musgrave.

Glasgow Art Club Award – Norman Sutton-Hibbert
Club membership and an exhibition
Located in the heart of the city, The Glasgow Art Club is has been a meeting place for generations of the city's most innovative and creative inhabitants. Selected by representatives of Glasgow Art Club.

Golden Hare Bookshop Award for printmaking – Robert Powell
£500  

Great Art Award – Lynsey Mackenzie
£1000 in vouchers to spend at www.greatart.co.uk

Greyfriars Art Shop Award – Ally Wallace
£150 voucher

Henderson Art Shop Purchase Award – Andrew Sheppard

Horsecross Arts Awards for Moving Image – Mairéad McClean | John Woodman
Two acquisition awards of £250 each for the Horsecross Arts public museum collection of contemporary art held at Threshold art space, Perth. 

House for an Art Lover Award – Lucy Dunce
An exhibition in the Café Gallery and £500
Set within Glasgow's Bellahouston Park and inspired by the designs of Charles Rennie Mackintosh, House for an Art Lover combines art gallery and exhibition space, events venue, café, multipurpose artists studios. Selected by the Curator of the Gallery.

Inches Carr Mentoring Award – Stefanie Cheong
£5000 plus an additional £2000 in mentoring costs
The award is £5000 for a maker, plus an additional £2000 for a mentor whose discipline and/or professional experience would add value to winner. The purpose is to encourage and mentor makers to develop their practice to a higher level, consider innovation and introducing new materials or techniques to their existing practise. 

Incorporation of Goldsmiths Award – Stefanie Cheong
£250 towards ethically sourced materials and an ethical practice mentoring session  

Leith School of Art Award 
1 years Friends Membership and a weekend course of their choice for an SSA member. £100 for a VAS member.
Leith School of Art is a college where everyone is welcome to come and study art. Selected by representatives of Leith School of Art.

Nancy Graham Memorial Book Award – Susie Wilson
£30   

Open Eye Gallery Award – Rowan Paton
The Open Eye Gallery has been established since 1982 and is one of Scotland's leading contemporary private art galleries. Set in the heart of Edinburgh's New Town, it offers an extensive and varied exhibition programme. Selected by representatives of Open Eye Gallery. 

The Pauline Fay Lazarus Prize for work using the human form – Avant Cinema (Sarah-Jane Swan and Roger Simian)
For an artwork of merit, £150

Powderhall Bronze Foundry Award for Sculpture
£100     

Purcell Paper Award – Jean Firth
Paper worth £100
John Purcell Paper offers an extensive range of papers and boards supplying artists across the world from their south London warehouse. Selected by the SSA President.

Ramsay Cornish Award – Alessandro Di Massimo
For an artwork of merit, £300
Ramsay Cornish is an independent auction house located in Edinburgh's city centre. Selected by Susan and Martin Cornish.

Richard Coley Award for Sculpture – William Braithwaite
£250 (open to sculptors over the age of 40)  

Scottish Arts Club Award – Robert McCormack | Henry Jabbour
Solo exhibition and 2 years membership
The Scottish Art Club is a haven in the heart of Edinburgh for those interested in all areas of the arts. Selected by representatives of the Club.

Scottish Furniture Makers Association (SFMA):
1st prize – £250 plus one year's membership – Isabelle Moore
2nd prize – £100 plus one year's membership – Daniel Lacey
Student award – £100 plus one year's student membership

Scottish Gallery Award
£250    

SSA Invited Artist Award – Mella Shaw
An opportunity to develop a substantial work or series of works with support and guidance from an assigned Member of the SSA Council for inclusion in the following Annual Exhibition. Selected by the President and Vice President of the Society.

SSA President's Award – CutLog
£600 for an artist of merit. The Presidents Prize is made possible through contributions from past Presidents of the Society and will be selected each year by one of the Prize contributors. 

Stern Award for Figurative Art £250 – Joseph Buhat

Stills Centre for Photography Award – Hanquing & Mona
1 year Friends Membership

Tatha Gallery Award – Barry McGlashan
Two artists selected for a joint exhibition.
The Tatha Gallery, Newport on Tay, Fife is one of Scotland's leading contemporary art galleries with a strong focus on Scottish contemporary art. Selected by Directors of the Gallery.

W Gordon Smith and Mrs Jay Gordon Smith Award – Rowan Paton | Sam Shendi
Two £4,000 prizes for work of merit from each Society. Selected By the trustees of the W Gordon Smith Award.

We were greatly saddened to hear recently of the passing of Mrs Jay Gordon Smith who has so generously supported the Society in recent years. We are proud to continue to offer the W Gordon Smith and Mrs Jay Gordon Smith Award in their honour.W. Gordon Smith was Scotland on Sunday's art and theatre critic and columnist for many years during which he contributed to the progress of the arts in Scotland and this award celebrates both his life and his lifetime's work by supporting artists in Scotland.  

Wilhelmina Barns-Graham Award – Siobhan McLaughlin
£2,000 – Prize for a work of merit by a recent graduate.
Image: Siobhan McLaughlin, Untitled (Lochnagar III), oil pastel, oil paint and encaustic medium on mixed materials, 310 x 200 cm