SSA | CUTLOG – ARTISTS MOVING IMAGE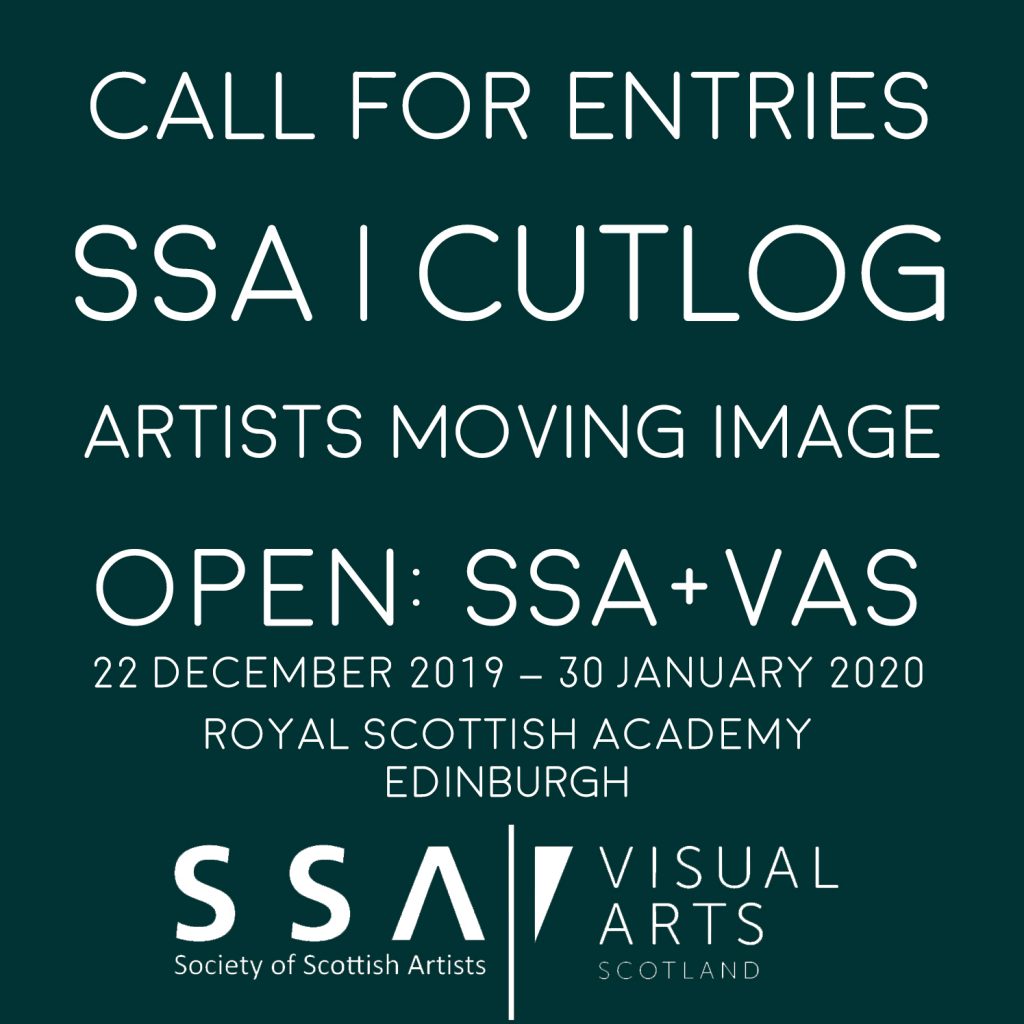 With a shared vision to provide an accessible platform for artist moving image, the SSA and CutLog invite artists from across the world to enter their work to be considered for inclusion in a showcase screening as part of the SSA's Annual Exhibition at the Royal Scottish Academy in Edinburgh from 22 December 2019 – 30 January 2020. The Society of Scottish Artists in collaboration with CutLog Artists Moving Image announce a unique opportunity for artists to present moving image works.
The exhibition, SSA|VAS OPEN, is presented in partnership with Visual Arts Scotland and will be the largest exhibition of contemporary art and craft to be held in Scotland this year giving an audience of over 30,000 people the opportunity to discover and enjoy artworks across all mediums. The exhibition is produced and supported entirely by artists with no public funding.
Within the prestigious Royal Scottish Academy galleries, a dedicated screening gallery will host a program of single-screen works selected through an anonymous, open submission process. Artists at all stages of their career and from anywhere in the world are invited to enter. All works will be viewed and selected by a panel of practicing artists and moving image makers.
We are looking for video or digitised film suitable for single-screen projection. Works should be no longer than 20 minutes. There is no theme, however, we are keen to utilise this opportunity to discover the variety of ways in which artists are exploring and developing their ideas through this medium. Artists should be aware that we have an unrestricted family audience, and artists must take responsibility for all copyright and licensing of each work submitted.
Key Dates
Open for Entry: Thursday 20 June 2019
Deadline: Monday 5 August 2019
Exhibition: 22 December 2019 – 30 January 2020
UPDATE: Due to the high number of submissions the panel of selectors require more time to make their decisions and therefore we have extended the selection notification date to Monday 16 September.  The selection results will be available at the submission website from this date.