Eichstätt Lithography Residency | Julie Bellavance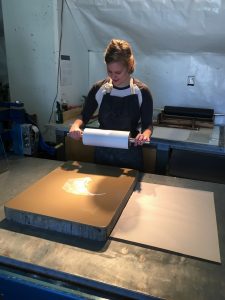 The Society of Scottish Artists is delighted to announce that artist Julie Bellavance has been selected for the Eichstätt Lithography Residency 2019.
This bi-annual Lithography Residency Prize includes a period of time working in the studio and a solo exhibition with an opening reception. It is offered by Li Portenlänger, Director of Lithographie-Werkstatt Eichstätt in Bavaria, Germany, working in partnership with the SSA. Julie will be in residence at Director of Lithographie-Werkstatt Eichstätt June – July 2019.
Sharon Quigley, President of the SSA said, "The Eichstätt Lithography Residency Award is part of the Society's dedication to creating international opportunities that offer artists time and space to develop and exhibit their work.
"This opportunity attracted applications from many artists working internationally to an exceptionally high standard, and we are excited to welcome each of the artists who applied as members of the Society and look forward to working with them all in the future."
Aleksandra Kargul, Vice-president of the Society added, "We are delighted to offer this fantastic opportunity to Julie. Her work is of a very high standard and her dedication to the medium of lithography is evident through her studies and work. Having been awarded the residency myself in 2015, and subsequently visited Lithographie-Werkstatt Eichstätt again last year, I can guarantee that Julie will have a great time in Bavaria working alongside Li."
A student member of the SSA, Julie is currently completing a Master of Fine Arts degree at Université Laval in Quebec City, Canada while working as teaching assistant in printmaking classes at the University. Julie also teaches stone lithography and photolithography at Quebec's centre for printmaking, Engramme
Julie works in a range of printmaking techniques, with a specific attention to stone lithography. Her work ambiguously represents fragile natural elements while preserving their subtle qualities; it explores subtle interplays between the represented object, the precision of depiction, and the specificities of the medium itself.
On receiving the award, Julie said, "It is a great honour to have been selected for the Eichstätt Lithography Residency. This is a great recognition and a wonderful opportunity to create in a different work environment. I am delighted to have the chance to work alongside Li Portenlänger and to discover the land where lithography was first introduced. I am looking forward to visiting important lithography historical sites such as Solnhofen quarry and the University of Eichstätt-Ingolstadt. This residency will widen my knowledge and have a great impact on my own artistic production. "
Julie will be in residency at Lithographie-Werkstatt Eichstätt later this year and her work will be featured in the Society of Scottish Artists' 121st Annual Exhibition opening 23 December 2018 at the Royal Scottish Academy.
Run by artists for artists since its foundation in 1891, the Society of Scottish Artists is the largest contemporary art society in Scotland supporting a vibrant network of artist members across the world. Membership is open to all artists.
For more information please see:
http://juliebellavance.com
Eichstätt Lithography Residency
Li Portenlänger: Invention of lithography and the Solnhofen quarries
Aleksandra Kargul, Winner of Eichstaett Prize