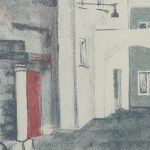 Thursday 12 April 2018, 6:30 – 8:00pm
Residencies are an increasingly key aspect of artistic practice, so come and learn all about them! Discover what it's like to do them, what you can learn from them, and how they can be of tremendous benefit.
We're delighted to be joined by artists Aleksandra Kargul, Catherine Hiley and Jodi Le Bigre, who have each been awarded the Society of Scottish Artists' Eichstätt Lithography Residency Prize and as a result, undertaken a residency at Lithographie-Werkstatt Eichstätt in Bavaria. Together they'll talk about their residencies and give invaluable insight into what residencies are all about.
What's more, the director of Lithographie-Werkstatt Eichstätt, Li Portenlänger, will be joining us! Li has years of experience running Eichstätt's very special lithography studio and has countless stories to tell, both about lithography and Eichstätt itself, which is the world's biggest exporter of lithographic limestone. She'll also talk about what it's like to create, organise and deliver residencies, giving a perspective that will nicely complement those of our Alexandra, Catherine and Jodi.
The Society of Scottish Artists works in partnership with Lithographie-Werkstatt Eichstätt to offer a bi-annual Lithography Residency Prize.
Book Online here
Edinburgh Printmakers | 23 Union Street | Edinburgh