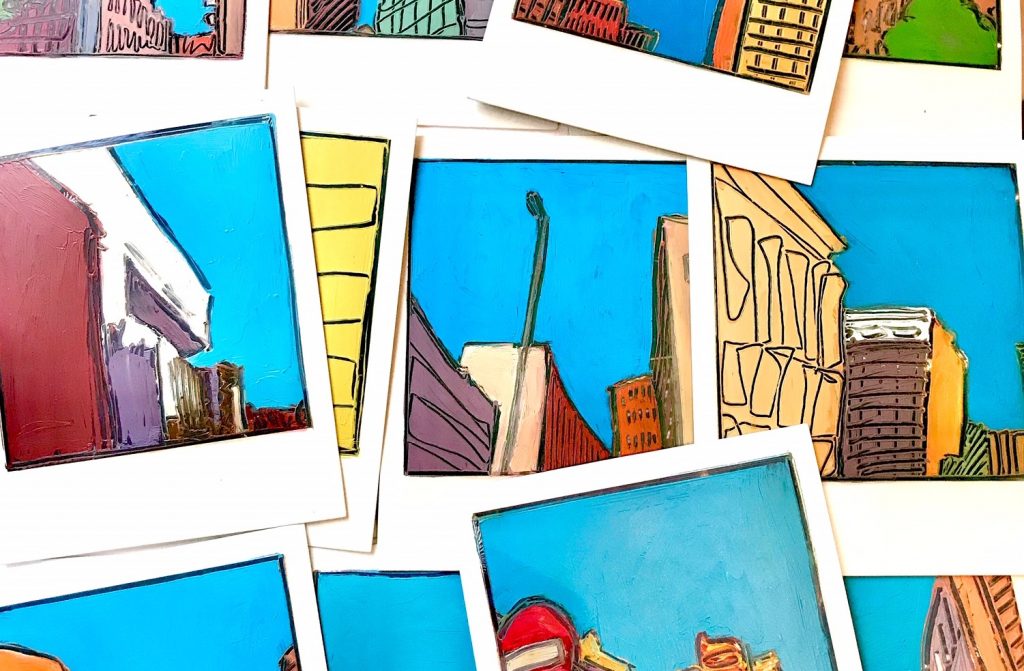 In September we handed you over to some of our brilliant Council members for a series of Council Forums. Each Council member offered insights into their background, and shared knowledge about their individual practices.
These are available to view again on our SSA YouTube channel now >>
Sarah Kudirka | Watch here
Glasgow-based artist Sarah Kudirka has an exciting and resolutely analogue practice, although her colourful and highly distinctive works using paint and polaroids are still largely under the radar in Scotland.

During this event, Sarah provided an insight into how, since 2012, she has transformed hundreds of original instant film exposures into wholly reinvented city images. 

Kudirka's work and style are unique, and her wall installations are like fascinating, if unbuildable, urban plans. Her recent work has drawn on Glasgow, Dundee and Edinburgh, after earlier series based on Hong Kong, Berlin, Sydney and London.
Image: Sarah Kudirka, collection of work
Su Grierson | Watch here
SSA Professional Member Su Grierson traced the origins of her exhibition Unstuck in Time which, prophetically named, became both unstuck in time due to Covid-19 and overtaken in time by recent social events.
By stepping outside of her comfort zone with two performance-based residencies in 2015, Su embarked on an artistic journey that resulted in a project with Adam Chienjo and Izo Anyanga from Kenya, followed by a zine with academic historian Dr Mary Irwin, as well as the exhibition – all of which were concerned with icons, myth, reality and belief.  
Image: Su Grierson, Louis, digital collage 
Duncan Robertson | Watch here
Duncan Robertson, Edinburgh-based sculptor and long-time member of the Scottish Society of Artists, gave a fascinating insight into some of the exchanges and residences he has undertaken since graduating from Edinburgh College of Art.
He reflects on his experiences, and shares some of the knowledge he gained from being a student in the class of Sir Eduardo Paolozzi in Munich, as well as living and working in the city for ten years.
Image: Duncan Robertson, Red Dress Albany, Australia, flying the flag, photograph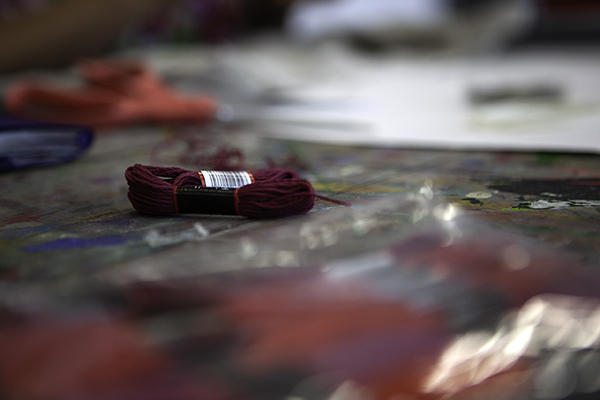 Gillian McFarland | Watch here
SSA Professional Member Gillian McFarland and as art psychotherapist Sinead Braiden explored a creative conversation between art and art therapy.
Following Threads will explore the process between two creative practitioners from different work perspectives but with a commonality of focus. 
Sinead Braiden is a state-registered art psychotherapist with 14 years' experience of working in the NHS and voluntary sector. She is interested in how all forms of creativity can help people to express emotions and "tell their story" in a different and meaningful way.
Gillian Adair McFarland is interested in working collaboratively across disciplines, reflecting on influences from both science and the natural world. Her practice is an investigation of spaces between things, transitions in states of being and responses to the passage of time.
Image: Gillian McFarland