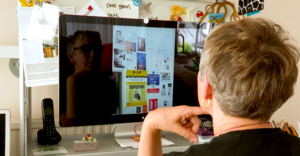 Learn how to transform your artworks and material into an organised and accessible resource during this workshop with archiving experts Art360. Get advice and practical tips on managing and organising your materials and work, as well as building an archive and shaping the story of your practice. Art360 is an independent charity that provides artists and estates with consultation and practical support for archiving and legacy planning. This session will be led by Ellie Porter, Art 360's Head of Programme, and Mark Waugh, the organisation's Artistic Director. Both have a wealth of experience in artists' archives, and will be on hand to answer any questions.
Friday 27 November, 3pm

Register for the webinar here
(Registration essential)

This programme of events is exclusively available to current Members of the Society of Scottish Artists. If you're not yet a Member, you can join here

VIEW FULL PROGRAMME

Image: Still from Sarah Staton, An Art360 Documentary Film © David Bickerstaff & Art360 Foundation, 2020.