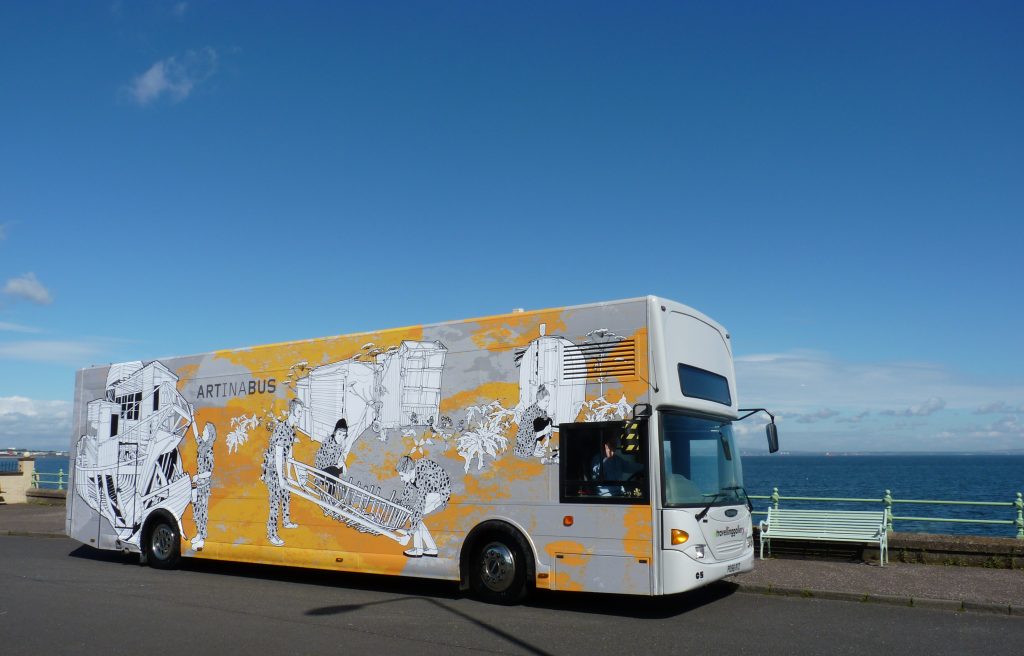 We're very pleased to be joined by four exceptional arts organisations from around Scotland for this panel session offering information and advice on working with galleries. Join Claire Craig from Travelling Gallery, Lindsay Bennett from Tatha Gallery in Newport-on-Tay, Andrew Parkinson from The Pier Arts Centre, Stromness, and Mike Darling from An Tobar to learn more about how different galleries select and work with artists, build their programmes and curate their shows. Find out how to build a relationship and work with different types of galleries, and get essential tips and advice on getting your work shown. Our panellists will also be answering questions from attendees via the
chat box.
Travelling Gallery
Travelling Gallery is a contemporary art gallery in a bus, it is a national service with the exceptional ability to reach communities and people across Scotland. We recognise that art can change lives and we create fair conditions and remove barriers to allow access and engagement to audiences in their own familiar surroundings. The gallery space offers an open and welcoming environment for people of all ages, background, and abilities to discover and enjoy contemporary art.
Over the past forty years Travelling Gallery has brought innovative exhibitions to every part of Scotland reaching hundreds of thousands of visitors and school pupils. 
The Pier Arts Centre
The Pier Arts Centre in Stromness houses a Collection of British fine art including works by Barbara Hepworth & Ben Nicholson as well as local artists such as Sylvia Wishart & Stanley Cursiter & contemporary artists Sean Scully & Eva Rothschild. The Centre also curates a year round programme of exhibitions & events.
Tatha Gallery
Tatha Gallery established in 2014 has a strong identity and reputation showcasing quality contemporary Scottish Art to inspire the imagination and enrich the soul. We host an eclectic and changing programme of exhibitions showcasing Painting, Printmaking, Sculpture and Applied Art.
We make art accessible and celebrate variety fully conscious of different tastes and budgets showing work by new Scottish talent alongside established artists.
Art to Inspire the imagination and enrich the Soul
An Tobar
An Tobar gallery was created as part of a multi-arts venue (An Tobar), based in the restored Victorian school building in Tobermory on the Isle of Mull. 
An Tobar is jointly funded by Creative Scotland as a Regularly Funded Organisation (RFO). It is now home to artists, performers and audiences all year round. Hosting exhibitions, workshops, gigs and shows, this creative centre fosters and showcases arts of all movements and mediums. The exhibitions have included work by a wide range of contributors. From those whose practice is internationally recognised to emerging artists having their first solo exhibition. 
Monday 2 November, 7.30pm

Register for the webinar here
(Registration essential)

This programme of events is exclusively available to current Members of the Society of Scottish Artists. If you're not yet a Member, you can join here

VIEW FULL PROGRAMME