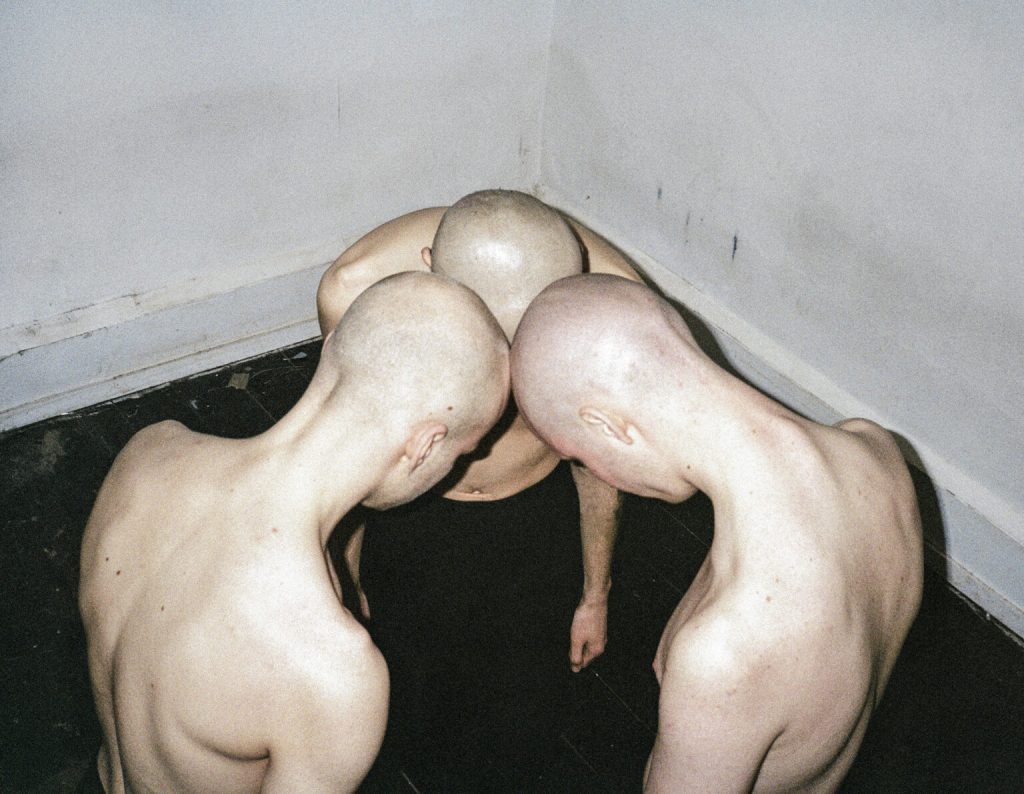 We are delighted to announce this year's winners of the SSA New Graduate Award!
In 2021 we saw the return of some physical degree shows and some really ambitious work. The SSA council once again visited the degree shows, both physically and virtually, to make their selection.
The SSA is committed to supporting recent graduates and is looking forward to working with all the selected graduates at the Annual Exhibition held at the RSA 1 – 27 November.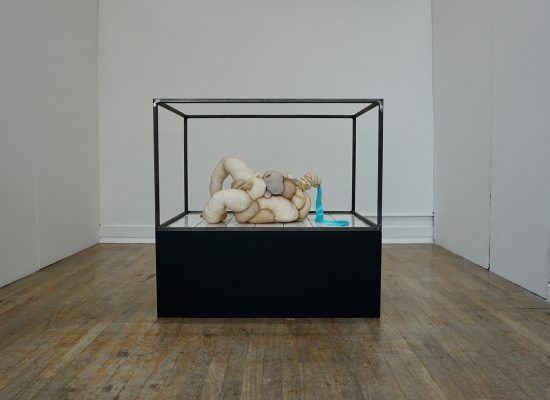 Louise Black
Duncan of Jordanstone College of Art | Fine Art

"All things about the body are of interest to us; belong to us; we never tire of our own bodies or those of others. The varieties of personal and social experiences of the body are deep and profound; untold.
Through physiology I investigate the female figure as a main catalyst point, exploring experiences of self-consciousness, anxieties and vulnerabilities. I test the boundaries between the foreign and the familiar, flirting with the act of revealing and concealing versus the attraction and repulsion paradoxes.
I address attraction of the female form, contorting and sewing soft sculptures into unfamiliar beings, illustrating how I physically feel in certain social situations. Using nylon tights, hair extensions and latex; products manufactured and sold to enhance the beauty, appearance and sexualization of particularly women interrogates the link between gender, craft and domesticity.
Although the objects contain strong visual references through the act of looking – observing and being observed, I am more interested in the tactile ones; the want and desire to touch.
I strive to create objects that have never quite been seen before, testing the boundaries between the
foreign and the familiar
the attractive yet repulsive
looking without touching
seductive but with displeasure."
Image: Louise Black, Being Mother, 2021, Nylon Tights, wadding, latex, hair, wire, tiles, MDF plinth, steel frame, 110.5 x 80 x 107cm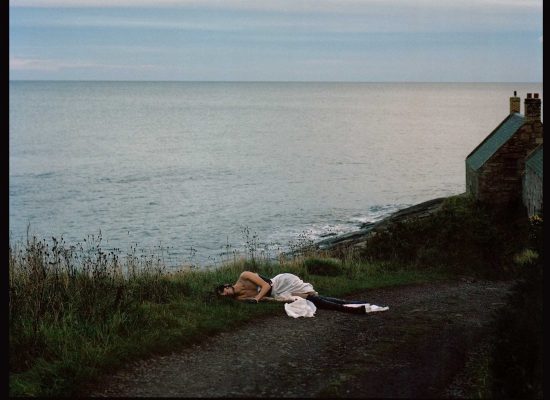 Adam Brown
Edinburgh College of Art | Photography

Adam Brown's 'Fear of the Feminine'  is a photographic series exploring and reflecting on their relationship with queerness and femininity in childhood. Somewhat diaristic in nature, however largely glorified and symbolic, the work expresses experiences of growing up queer. Inspired by a time where they unknowingly questioned intricacies of gender and societal expectations.
The work highlights the substantial grief and confusion Brown experienced as a result of external pressures to conform to aspects of the heteronormative lifestyle.
Capitalising on the existence and suppression of the artist's male femininity, Brown used their drag alter-ego, Angel, as a hyper-feminine visualisation of this male femininity. Brown placed the character in the centre of a disappearance investigation comprised of fictional publications made up of loose conspiracy theories, narratives, and corresponding imagery that utilise notable gender associations and archetypes ingrained in modern societal viewpoints. Essentially, killing the character off to portray how they had previously suppressed and attempted to eliminate signs of femininity. Later, stripping back the works to ambiguous 'crime scene' images shot on medium format, presented as cinematic photographs comparable to film stills, constructing a sense of glamour met with a vagueness, leaving the investigation open for others to piece together individual narratives.
Image: Adam Brown, Fear of the Feminine, 2021, photograph, 20 x 26.5 inches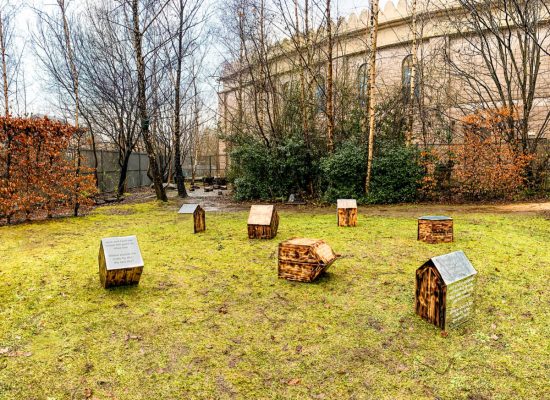 Francisco Llinas Casas
Glasgow School of Art | Sculpture & Environmental Art

Francisco Llinas explores notions of migration, Latin American identity, the Bolivarian Diaspora, and the elaboration, performance and representation of cultural difference. He is a UNESCO RILA Affiliated Artist and current artist in residence at Fondazione Pistoletto.
‍
His research-based practice often results in installation pieces and participatory art. His making process, however, explores a breadth of media and techniques that can include performance, film and painting. Such a multidisciplinary approach responds to his interest in art as an emancipated form of enunciation.
‍
A similarly important part of his work is the development of socially-engaged art projects responding to ideas of cultural belonging, representation, de-colonisation of cultural spaces and displacement. As part of community-oriented projects, he has co-funded with fellow artist Paria Goodarzi a Glasgow-based art collective under the name 'Distanced Assemblage', through which they continuously collaborate with cultural organisations and community groups; facilitating workshops, discussions, talks and exhibitions.
Image: Francisco Llinas Casas and Paria Moazemi Goodzari, I am From Here, There, 2021, Fired Wood & Acrylic Mirror, 52x35x35cm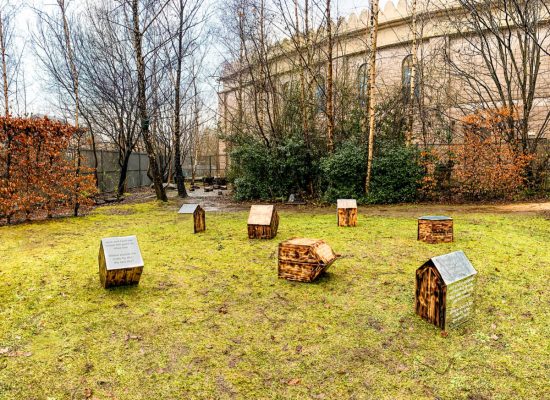 Paria Moazemi Goodarzi
Glasgow School of Art | Sculpture & Environmental Art

Paria Goodarzi, born and grew up in Tehran, lives and work in Glasgow and a member of UNESCO RILA Affiliated Artist network. She obtain a BAHons in Textile Design from University of Science & Culture in Tehran (2004), an HND in Textiles from Cardonald college in Glasgow (2016) and a BAHons in Sculpture & Environmental Art from Glasgow School of Art (2021).
Her Work revolves around cultural and political transfers and translocations, the ideas of the contemporary human condition, cultural identity and political issues that resulted in an ambivalent coexistence of civilised life, conflict and displacement. Goodarzi's work responds to such contemporary, cultural and political aporias by examining the hybrid condition of our society and the processes of formation, performance and representation of identity through a multidisciplinary praxis that often takes the shape of collaborative, participatory and socially-engaged artworks.
She co-founded an art initiative under the name 'Distanced Assemblage', focused on community and socially engaged art practice; developing a series of collaborative projects that examine ideas of cultural appropriation and belonging by altering the meaning, function and contexts of cultural artefacts, symbols or actions to make a positive impact in the long-term wellbeing and visibility of minority groups within our ever-changing society.
Image: Francisco Llinas Casas and Paria Moazemi Goodzari, I am From Here, There, 2021, Fired Wood & Acrylic Mirror, 52x35x35cm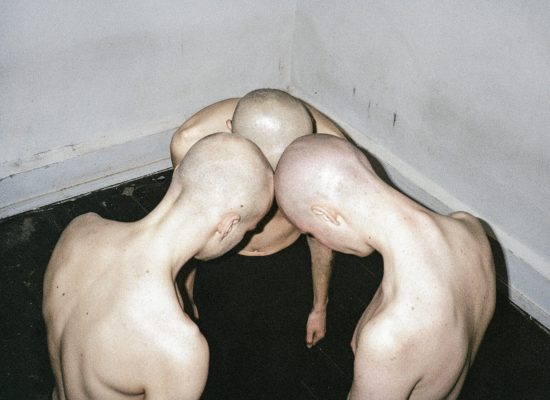 Callum Diffey
Glasgow School of Art | Fine Art Photography

Callum Diffey (b.1997) is a multi-disciplinary artist currently based in Glasgow. Their practice utilises photography, sculpture and video. Toeing the line between sensitivity and brutality, visually referencing motifs present within queer culture and found imagery their work is an investigation of concepts such as the dichotomy of pain and pleasure, the sacred and the profane, collective memory and trauma, identity and the beauty in the debased. When two opposing ideas or feelings are whole or experienced simultaneously.
Image: Callum Diffey, Heads, 2021, 35mm photograph, 19.5″ x 25″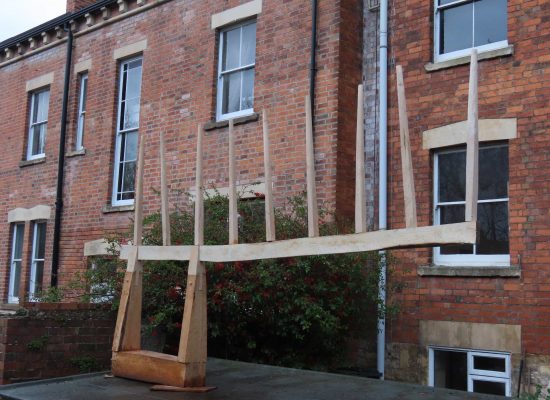 Otto Gobey
Edinburgh College of Art | Sculpture

"My practice revolves around trees and timber, and our history of working with wood. The things we have built, the meanings we have imposed and the structures we have left behind. The works I construct are amalgams of specific techniques, materials, textures, and form.
I work slowly using tools and processes that have changed very little since their inception. Employing techniques that leave the marks and the traces of the decisions made, a memory of both my actions of shaping and the materials act of growing."
Image: Otto Gobey, Railing, 2021, alder and ash, 210 x 370 x 20cm
Rosie Handley
Duncan of Jordanstone College of Art | Fine Art

"The theme of my current practice has stemmed from an urge to play and investigate the textures, colours, and certain properties of objects around me. I utilise the experimental nature of printmaking along with the spontaneity of drawing to play with elements of chance and freedom in constructing abstract images.
The colour and surface of a material can portray a lot about the mass and nature of the object. Drawing is an act where one inscribes, scores, or engraves a mark onto another surface – drawing has the ability to capture an action and materialize it in the solid. In her book Vibrant Matter, Jane Bennett expresses that in childhood, people used to believe that everything around them was animated – substances aren't simply alive in a mechanistic way or influenced with a transcendent spirit. They are alive in their complex interrelationships and trajectories. I am interested in the space in which drawing and seemingly passive objects interact with each other to form a dialogue between colour and form. I aim to hint at these abstract conversations through the process of etching and installation."
Image: Rosie Handley, Untitled, 2021, etching, drawing and collage, 300 x 100 x 500cm
Andrew Michael
Edinburgh College of Art | Film and Television
"I am an Edinburgh and London-based filmmaker with experience in short film directing and production spanning drama, documentary and experimental genres. I have spent my time at Edinburgh College of Art developing skills in all stages of production. This includes script development and casting, location scouting and editing. I also have experience in experimental self-shooting and photography.
I have produced short films that have gone onto their selection at festivals both in the UK and Europe, including BFI Future and Little Wing Film Festival. I am primarily focused on highlighting contemporary LGBTQ+ issues in my independent work and am an aspiring producer-director of short-form documentary content."
Image: Andrew Michael, Angel, film still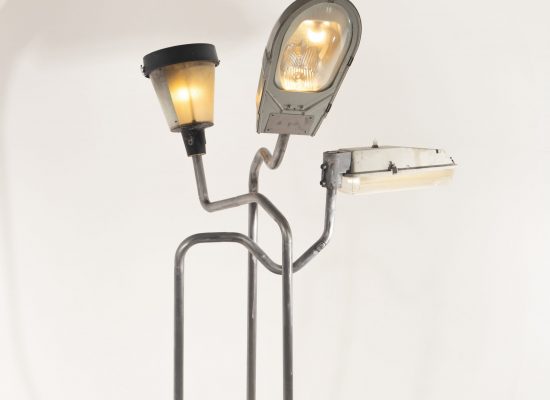 Megan Moss
Gray's School of Art | Contemporary Art Practice

Meg Moss is a contemporary artist and a recent graduate of Gray's school of art. Exploring both 2d and 3d, through drawing, photography and sculpture. Her practice focuses on the presence and prevalence of surveillance within our society and surroundings. She alludes to the notion that surveillance is everywhere and within everything, paying particular attention to urban infrastructure such as lamp posts, and how they 'oversee' everything from a vantage point. The work intends to anthropomorphise them and suggest that they too, are watching us: the metaphorical embodiment of surveillance.
Meg aims to weave a metaphorical, speculative fiction with reality where within this narrative, these lamp posts watch over us all, like living things or technologically advanced beings. Usually, you look at a lamp post and feel a sense of warmth and safety, a light to aim for in the dark, or perhaps they go unnoticed. Presented within this context, these mundane objects, can now be perceived as a threat or an enemy: portraying surveillance as ubiquitous, enveloping our everyday lives.
Image: Megan Moss, The Watchers, Recycled lamp post heads, MDF, Vinyl, Mild steel, 2.5m x 1.5m x 1.5m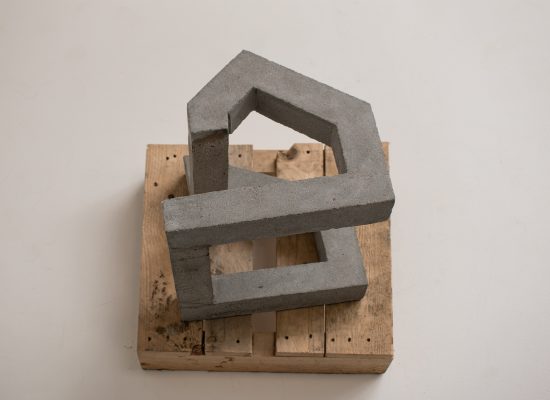 Kirsty Smith
University of the Highlands and Islands | Fine Art
"My work looks at the rural landscape through social and contemporary constructs of place. I have created objects, drawings and sculptures that morph the outside into the gallery space.
I look at the shifting worlds of the modern home and the surrounding landscape; through the visual language of intertwined images, reconstruction, the model and cast forms. I construct depicting the endlessness and openness of space, forming imagined possibilities and ideas of change within the present reality. I consider the landscape and the object to exist in a state of dwelling in change; found bones, rope, ruins and structures are animate and everchanging within the landscape."
Image: Kirsty Smith, Endless Hoose, 2021, mixed media, 50 x 50 x 50cm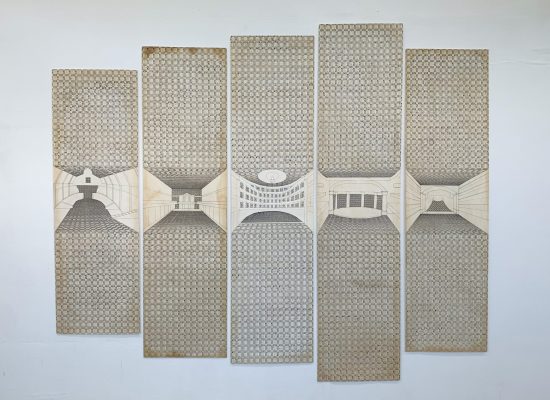 Erin Thomson
Gray's School of Art | Painting

Erin Thomson's niche is the incomprehensible. The size of the universe, classic riddles, ancient alphabets, and myths that claim a composers ninth symphony will be their last are some of the areas she has been exploring. Thomson does not aim to grasp what any of these concepts or ideas mean or answer any questions they hold, instead she aims to challenge what we know and what we know we do not know. She builds new dimensions with no intention of meaning, manifests the things we can never quite get our heads around into drawings, takes words and encodes them into new visual images to further complicate the ability to decipher. She opens up space for conversation, so that the worlds she creates or the ciphers she encodes can be places for people to discuss their experiences, memories and opinions of the world and of the mind.
Ultimately, Thomson aims to reflect on how she sees the incomprehensible without limiting the experience to her own.
Image: Erin Thomson, Curse of the Ninth, Fountain pen on tea-stained watercolour paper, 180 x 220 x 0.01 cm