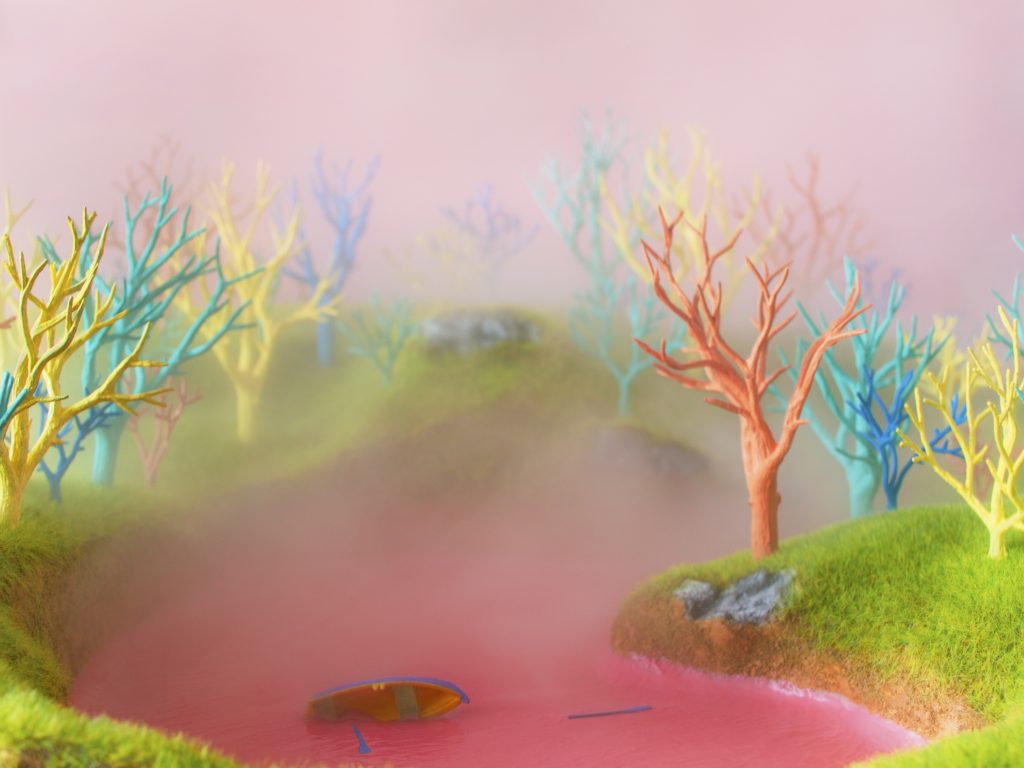 31 August – 2 November 2019
A Society of Scottish Artists exhibition at Gracefield Arts Centre, then Kirkcudbright Galleries.
The idea of Utopia may be older than Thomas More's famous book, but what could actually be gained from the concept, or possibly lost. A personal utopia would surely be as individual as each of us, and our own personal imagination. Is this the difficulty with any proposed Utopian society? The power of the individual would make the construct a contradiction.
This idea is explored by SSA members with a selection of contemporary work in painting, drawing, print and mixed media displayed across galleries 1 and 2. A complementary selection of work from the Gracefield Collection in on display in the upper rooms in Gallery 1.
Exhibiting artists: 
Elaine Allison, Jennie Ashmore, Katie Avey, Maggie Ayres, Louise Barrington, William Braithwaite, Georgina Brown, Robbie Bushe, Samantha Cheevers, Michael Clarence, Alastair Clark, Rowena Comrie, Jessica Copping, Lou Davis, Liz Douglas, P U M Dunbar, Martha Ellis, Ronald Forbes, Douglas Fraser, Celia Garcia, Jan Graham,  Audrey Grant, Su Grierson, Mike Inglis, Jamie Johnson, Sarah Keast, Lindsey Lavender, Ros Lawless, David Lemm, Rosie Lesso,  Kenris Macleod, Martin Mckenna, Calum Mcclure, Emily Moore, Julie Moss, Leena Nammari, Gayle Nelson, Ruth Nicol, Sophia Pauley, Jenny Pope, Robert Powell, Saul Robertson, Charlotte Roseberry, Cécile Simonis, Christine Sloman, Graeme Swanson, Jayne Stokes, Erlend Tait, Rhona Taylor, Olivia Turner, Luke Vinnicombe, Kenneth Whyte and Denise Zygadlo.
UTOPIA – WHAT'S YOURS? | ARTIST-LED WORKSHOPS
Saturday 28 September: Leafworks with Jennie Ashmore
Saturday 12 & Sunday 13 October: Screen-printing onto Textiles: Sarah Keast
Friday 18 – Sunday 20 October: Silver Clay with Sybil Williamson
Saturday 2 November: Abstract Painting with Rowena Comrie
Full details, costs and booking information please call Gracefield on 01387 262084 or email your enquiry to arts@dumgal.gov.uk
Gracefield Arts Centre is a hub for creativity and the arts in Dumfries & Galloway and together with its sister organisation in Kirkcudbright, the newly opened Kirkcudbright Galleries, aim to promote the best in visual art from home-grown talent and showcase exhibitions of historical and contemporary art from the UK and abroad. Find out more about the region and its arts and museum venues at www.dgculture.co.uk
Gracefield Arts Centre | 28 Edinburgh Road | Dumfries | DG2 8LA
Image: Sebastian Mary Tay, Time Passing #2 (detail), photograph