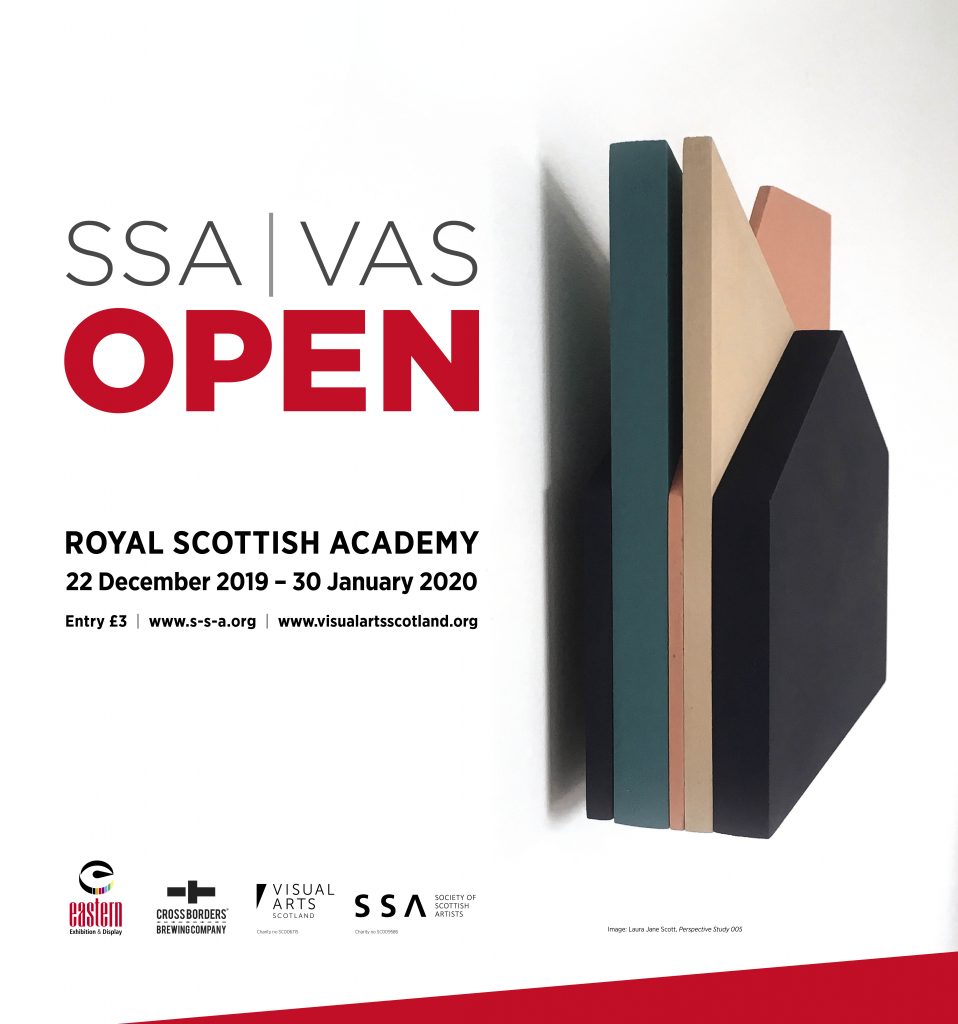 22 December 2019 – 30 January 2020
Entry £3 | Concession £2 | Catalogue £2
It is with great pleasure that we introduce you to the second collaborative venture between Scotland's two leading arts organisations: Society of Scottish Artists and Visual Arts Scotland. We've joined forces once more, with one common vision and clarity of purpose, resulting in a combined annual show which we believe to be the very best in contemporary art and design.
This year both societies are proud to uphold their commitment to championing the work of their respective memberships and that of outstanding invited recent graduates from across the art schools and colleges of Scotland. Alongside this work we have developed and maintained within the exhibition certain projects and partnerships unique to each society.
The SSA is delighted to present a new collaboration with artist-led organisation Cutlog artists moving image, to showcase the work of 67 national and international artists working in the medium of moving image, with a programme of daily screenings and monitor loops. In tandem they present new site specific work by Quebec-based artist Ilana Pinchon, as part of their ongoing SSA Engramme Exchange Programme; a new edition of lithographs by Julie Bellavance, the outcome of her SSA Eichstätt Lithography Residency; and new work by 2018's SSA Invited Artist Award winner, Orkney-based Louise Barrington. This year they are also honoured to include an artwork by the late SSA Artist Wilhelmina Barns-Graham, in celebration of a new SSA prize awarded by the Wilhelmina Barns-Graham Trust for a work of merit by a recent graduate.
For SSA | VAS OPEN 2019, Visual Arts Scotland has invited Cordis Trust to curate a selection of artworks that explore wider applications of the woven form. They have created a significant presentation of six national and international artists called Over Under : Under Over, which aims to 'explore the fundamentals of weaving through scale and material', creating new dialogues around current perceptions of weaving.
VAS has also worked once again with the Inches Carr Mentoring Award to present three shortlisted artists and makers for this prestigious prize: furniture designer and maker Simon James Whatley, textile artist Janet Hughes and jewellery maker Stefanie Cheong. The award is £5000 for a maker, plus an additional £2000 for a well- chosen mentor. They are exhibiting their work alongside last year's winners — Highland duo Yellow Broom — who have been working with ceramicist Myer Halliday to expand their practice, introducing cast ceramic elements to their body of architectural lighting.
VAS is also delighted to host a new award for furniture and design from the Scottish Furniture Makers Association, with a focus on sustainable and ethically produced furniture. Makers showing include London-based furniture designer, maker and environmentalist Sebastian Cox and Edinburgh-based designer and maker Isabelle Moore.
Full list of exhibition awards and winners here
EVENTS
TALK | HOW WE SURVIVE IN THE ARTS
Thursday 9 January 2020 | 5.30 – 6.45pm
FREE | Book tickets here

MEET-UP AND DISCUSSION | CUTLOG ARTIST MOVING IMAGE
Thursday 16 January | 4.30 – 6.45pm
FREE | Book tickets here

MEMBERS SOCIAL
Saturday 18 January | 5.30 – 7.30pm
FREE | Book tickets here

HANDS ON DAY
Sunday 19 January | 1.30pm – 4pm
FREE | Book tickers here

ANNUAL GENERAL MEETING
Sunday 26 January | 11am – 12pm
Register Here
PERFORMANCES
JAMES ALEXANDER MCKENZIE
ALBA DOWN TO NIPPON
Every Saturday 3pm | 21, 28 December 2019
4, 11, 18 and 25 January 2020

Alba down to Nippon is a multi-media artwork which includes a poetical live performance element in which McKenzie performs an offbeat, uplifting and slightly kitsch meditation on his time in Japan.

STEPHANIE BLACK-DANIELS
BLOCK BLOCK BLOCO BLOQUEADO
Saturday 18 January, 2 – 3:30pm

Two performers pose in various positions, activating large metal objects in the gallery. They display strength and endurance as they test the body and its powerful relationship to space, gender and sexuality.
Performers: Stephanie Black-Daniels and Gemma Jones
Royal Scottish Academy | The Mound | Edinburgh | EH2 2EL

Image: Laura Jane Scott, Perspective Study 005, mixed media, 2019